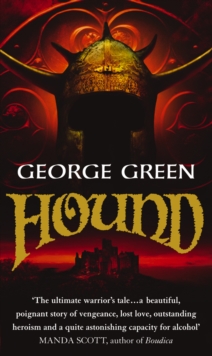 Description
This is the tale of one man's journey from the heart of the Roman Empire to a distant, rough-hewn land where warriors delight equally in the sound of the sword and the song of the poet - a world where honour is more important than life itself.
This is Ireland, two thousand years ago. This is a time for Heroes, a time of battle, boasting, drinking and telling stories, a golden age when myth and history meet and mingle.
The court of King Conor throngs with Heroes, but it is the boy Cuchullain, an outsider whose birth is shrouded in mystery, who will grow to be Ireland's greatest warrior.
As he becomes a man, under the guidance of the long-suffering, somewhat curmudgeonly Leary, his friend, confidant, charioteer and narrator of this tale, Cuchullain's exploits become the stuff of legend.
But, as the armies of the vengeful Queen Maeve gather at the gates of Emain Macha, Cuchullain must face both his greatest challenge and his dark Destiny...Retold as never before, this is a thrilling, timeless tale of heroism and friendship, of love and betrayal, of war and poetry.
This is the story of Cuchullain, the Hound of Ulster.
Information
Format: Paperback
Pages: 560 pages
Publisher: Transworld Publishers Ltd
Publication Date: 02/08/2004
Category: Myth & legend told as fiction
ISBN: 9780553815344
Free Home Delivery
on all orders
Pick up orders
from local bookshops
Reviews
Showing 1 - 1 of 1 reviews.
Review by janerawoof
10/11/2015
Author's retelling of the Irish legend of Cuchullain. narrated by his faithful charioteer, Leary. It begins with Leary's shipwreck on the Irish shore, rescue by Ulstermen, and his lifelong association with the Champion of Champions, Cuchullain. It was pretty slow until about page 350 or so, then it really picked up with the battles with Queen Maeve of Connaught, ending with Cuchullain's death and dissolution of the kingdom of Ulster. Fantasy elements are pretty much left out. Now I'm tempted to read The Táin: From the Irish epic Táin Bó Cúailnge. The novel had all the elements of a good epic, but the tone--Leary's inner thoughts, opinions, and musings--just put me off and spoiled the book for me. It seemed as though the author was trying hard to be TOO clever and TOO humorous. Leary came across to me as a smart aleck. I wonder why no one caught these: Julius Caesar fighting Boudicca although Britain hadn't been conquered yet; Julius tried [and failed]. I don't know the supposed time period of the story, Leary, a born German who has lived in Rome for awhile mentions the Colosseum several times, but the latest emperor he mentions is Nero. The Colosseum wasn't even built until later. Recommended, with reservations.