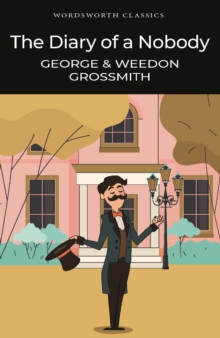 The Diary of a Nobody
Paperback
Description
With an Introduction and Notes by Michael Irwin, Professor of English Literature, University of Kent at Canterbury. The Diary of a Nobody is so unassuming a work that even its author, George Grossmith, seemed unaware that he had produced a masterpiece.
For more than a century this wonderfully comic portrayal of suburban life and values has remained in print, a source of delight to generations of readers, and a major literary influence, much imitated but never equalled. If you don't recognise yourself at some point in The Diary you are probably less than human.
If you can read it without laughing aloud you have no sense of humour.
Information
Format: Paperback
Pages: 176 pages
Publisher: Wordsworth Editions Ltd
Publication Date: 05/05/1994
Category: Classic fiction (pre c 1945)
ISBN: 9781853262012
Other Formats
Paperback from £3.99
CD-Audio from £13.05
eAudiobook MP3 from £10.04
EPUB from £1.07
Hardback from £19.95
Free Home Delivery
on all orders
Pick up orders
from local bookshops
Reviews
Showing 1 - 5 of 7 reviews.
Previous | Next
Review by cmbohn
16/06/2015
I'm not sure where I got this book, but I've had it forever. Maybe I expected it to be a difficult read, but it was quite easy and entertaining. Mr. Charles Pooter has aspirations, but none of his plans ever seem to work out quite the way he planned. Still, I couldn't help liking him, even as I laughed at his pride in his very unfunny jokes. I quite disliked his pretentious son and felt sorry for his discomfort at a fancy dinner party. Not a book I would normally pick up, but I'm glad I read it.
Review by wendyrey
16/06/2015
One of the funniest books I have ever read. Mr Pooter is a scatterbrained charmer who does the daftest things for apparently sensible reasons.Among other idiocies he paints his bath red with what turns out to be paint not suitable for metal and ends up covered with paint himself.Endearing and hilariously funny
Review by Clurb
16/06/2015
This was OK. I wasn't laughing myself silly, but the humour is still there and everyone likes a good bit of mockery of the lower middle class.
Review by aaronbaron
16/06/2015
I read a review that identified Diary of a Nobody as the missing link between Dickens and Waugh. So, naturally, I bought a copy posthaste. It consists of the quasi-amusing adventures of a rather stupid, pompous clerk and his obnoxious friends and family. Grossmith duly attacks the dullness, self-importance, and ignorance of suburban life, and he often hits the mark, but in the end I lost all interest in the book. I can see what the review was getting at; in that the book does read like a midway point between the profuse vaudeville of Dickens and the astringent wit of Waugh, but like many missing links it lacks the greatness of its more justly famous forbears and descendents. When Dickens rolled up his sleeves for a satirical foray, he made a point of also showing some redeeming qualities of even the most ridiculous of his characters. As all of us have our own mix of good and foolish qualities, Dicken's technique made his satire all the more poignant, as it was aimed at figures whom we could actually recognize in the world around us. Grossmith does not extend this humanist gesture to his objects of ridicule. As such, his characters are little more than caricatures, with about as much longevity as a political cartoon, and the laughter they inspire is both short-lived and mean-spirited. Waugh also never showed humanist mercy, and the objects of his scorn are often no more dimensional than the sharp blades he thrusts into their heart. Yet Waugh was never just a cartoonist; there is a pervasive melancholy in his works that emerges amidst the laughter. While Dickens was a moralizing crusader who satirized in the name of social reform and moral growth, Waugh believed that all of the best aimed barbs in the world could not change things for the better. He also know that he himself tacitly collaborated in every character, institution, and ideology that his works so spuriously ridicule. His satire was triggered by resistance rather than reform, and his attacks were often aimed at himself, giving his work a self-reflective edge that transcended mere mockery. Grosssmith, on the other hand, never even hints that his character's foolishness embodies the madness of the new age, or that their absurdities in any way reflect his own. He writes like a high school bully, making fun of the nerds in the marching band. Diary of a Nobody may be a missing link, but it best serves as a transfer point between two vastly superior destinations
Review by emanate28
16/06/2015
Lightly entertaining and funny while it lasted, but I found it quite unmemorable. It ended suddenly and without any real developments, which was too bad, as it seemed to be going somewhere.
Also in the Wordsworth Classics series | View all