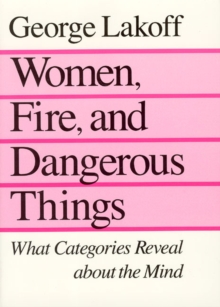 Women, Fire and Dangerous Things : What Categories Reveal About the Mind
Paperback
Description
"Its publication should be a major event for cognitive linguistics and should pose a major challenge for cognitive science.
In addition, it should have repercussions in a variety of disciplines, ranging from anthropology and psychology to epistemology and the philosophy of science. . . . Lakoff asks: What do categories of language and thought reveal about the human mind?
Offering both general theory and minute details, Lakoff shows that categories reveal a great deal."--David E.
Leary, American Scientist
Information
Format: Paperback
Pages: 642 pages, 32 line drawings
Publisher: The University of Chicago Press
Publication Date: 01/04/1990
Category: Philosophy of mind
ISBN: 9780226468044
Free Home Delivery
on all orders
Pick up orders
from local bookshops
Reviews
Showing 1 - 1 of 1 reviews.
Review by sarahdeanjean
16/06/2015
In this book Lakoff attempts to debunk the classical cognitive science theory of how humans categorize. According to Lakoff the old theory of categories limits our understanding of how humans think. His thesis for this book is that "reason is embodied and imaginative" and "not merely the manipulation of abstract symbols that are meaningless in themselves and get their meaning only by virtue of correspondences to things in the world." To prove the validity of his thesis, he uses cognitive models (in book one) and case studies (in book two) as evidence. Although some ideas are useful for those studying categorization, this work is more meaningful for the world of cognitive science than to that of library science. The beginning chapters are full of the history and summaries of pertinent categorical themes (such as "family resemblances" and "functional embodiment" ), a summary of pertinent scholars (Eleanor Rosch, Roger Brown ), and followed by a dense exploration of the cognitive process of categorization in many areas (such as mathematics and zoology) as well as linguistic categorization (metaphor and metonymy). Lakoff's tone is often unnecessarily dire: "To change the concept of category itself is to change our understanding of the world. At stake is our understanding of everything from what a biological species is…to what a word is." Lakoff supports his argument with good examples and explanations of his theories, but he assumes the reader has a certain amount of existing knowledge of cognitive science, which can often leave the reader confused (usually by undefined terms specific to the field). Although this work on categorization can help those in the library field identify the underlying reasons why some categorization techniques work and others do not, ultimately this work may be too dense for those outside the world of cognitive science and is certainly not recommended for those searching for a basic introduction to categorization.