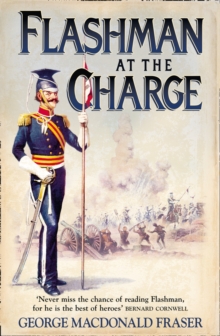 Flashman at the Charge
Paperback
Description
Coward, scoundrel, lover and cheat, but there is no better man to go into the jungle with.
Join Flashman in his adventures as he survives fearful ordeals and outlandish perils across the four corners of the world. As the Light Brigade prepare to charge the Russian guns at Balaclava, Flashman assumes his characteristic battle position: sabre rattling, teeth chattering, bowels rumbling in terror and about to bolt.
Information
Format: Paperback
Pages: 384 pages
Publisher: HarperCollins Publishers
Publication Date: 01/02/2006
Category: Historical fiction
ISBN: 9780007217182
Other Formats
EPUB from £4.49
eAudiobook MP3 from £10.39
Free Home Delivery
on all orders
Pick up orders
from local bookshops
Reviews
Showing 1 - 4 of 4 reviews.
Review by jztemple
16/06/2015
The recent death of George McDonald Fraser has brought a close (maybe permanent, maybe not?) to this delightful series of books. I have had the pleasure of following this series every since the release of the first book back in the sixties. The Flashman novels combine history (including substantial endnotes) with sex, action, adventure and the secret pleasure of enjoying the exploits of one of the most notoriously popular non-politically correct characters of 20th Century literature. Flashman is a womanizer, a coward, a scoundrel and a cheat, but in the novels, which are all narrated by Flashman himself, he is utterly honest with his readers. He is a man not proud of his faults, but certainly unabashed about them.The Flashman novels could be dismissed as sensationalized light reading , but Fraser cleverly tied his character into most of the major events of the last sixty years of the nineteenth century, a Victorian Zelig or Forrest Gump. Flashman casually mentions this minor detail or that simple observation, then Fraser in his assumed role as editor of the Flashman papers meticulously explains in the endnotes how these mentions by Flashman confirm the truth of his narrative, since only if Flashman was there could he have known about this fact or that. Fraser's endnotes also round out the historic details of the narrative, giving background and elaboration to the history-as-I-lived-it tales told by Flashman. It all works wonderfully, even if you somewhat suspect that some details are being outrageously fabricated.I very strongly recommend these books to anyone who has an interest in history and is willing to keep an open mind towards the womanizing and the language (the n-word appears quite a bit, but completely in character for Flashman). I would suggest the best way to read them is in order of publication. This doesn't follow Flashman's own life chronology, but the books published later often make reference to previous editions of the "Flashman Papers" and so is more fun for the reader to follow.
Review by johnthefireman
16/06/2015
Another adventure of coward and cad Flashman, now a colonel. He takes part (by mistake) in one of the most famous military incidents of all time, the Charge of the Light Brigade. Subsequently captured, he accidentally saves the Empire from the Russians.
Review by nicholas
16/06/2015
The fourth volume in the memoirs of General Sir Harry Flashman VC, celebrated military officer (and outrageous cad, philanderer, cheat and coward). Shipped off to the Crimean War, Flashman finds himself caught up in the Charge of the Light Brigade, taken prisoner by the Russians, and inadvertently involved in numerous acts of what look like supreme heroism (but are actually unintended side-effects of his own cowardice). Hugely entertaining.
Review by MrsPlum
16/06/2015
Discovering Flashman has been my highlight for 2010. Fraser's skills as a novelist and historian is such that he created a character who remains ultimately likeable, despite his treatment of women. There have been many such men in life – why not in art? Flashman's account of the charge of the Light Brigade, and the bungling of the Crimean episode is entirely plausible. His portrait of Russia and her people is entirely grim and cruel, but perhaps understandably coloured by his long imprisonment and experiences in that country. On his return to more familiar territory in Afghanistan, we see Flashy take on the hero's role with uncharacteristic willingness.
Also by George MacDonald Fraser | View all
Also in the The Flashman Papers series | View all