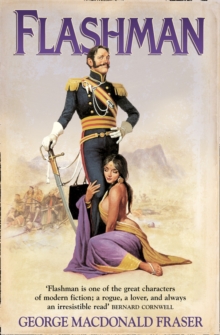 Description
Coward, scoundrel, lover and cheat, but there is no better man to go into the jungle with.
Join Flashman in his adventures as he survives fearful ordeals and outlandish perils across the four corners of the world.Can a man be all bad?
When Harry Flashman's adventures as the reluctant secret agent in Afghanistan lead him to join the exclusive company of Lord Cardigan's Hussars and play a part in the disastrous Retreat from Kabul, it culminates in the rascal's finest - and most dishonest - turn.
Information
Format: Paperback
Pages: 352 pages
Publisher: HarperCollins Publishers
Publication Date: 01/02/1999
Category: Historical adventure
ISBN: 9780006511250
Other Formats
Paperback from £6.89
Hardback from £11.25
EPUB from £2.99
eAudiobook MP3 from £6.79
Free Home Delivery
on all orders
Pick up orders
from local bookshops
Reviews
Showing 1 - 5 of 8 reviews.
Previous | Next
Review by rcss67
16/06/2015
Fraser's Flashman is a fantastic creation, soemone you love to read about and wish was real. His pricking of pomposity is a delight, his sexual adventures an antidote to the stories of Vitorian prudery we associate with the 19Century. And the stories make you want to learn more about the truth- and often Fraser proves to be a good historian too!
Review by jztemple
16/06/2015
The recent death of George McDonald Fraser has brought a close (maybe permanent, maybe not?) to this delightful series of books. I have had the pleasure of following this series every since the release of the first book back in the sixties. The Flashman novels combine history (including substantial endnotes) with sex, action, adventure and the secret pleasure of enjoying the exploits of one of the most notoriously popular non-politically correct characters of 20th Century literature. Flashman is a womanizer, a coward, a scoundrel and a cheat, but in the novels, which are all narrated by Flashman himself, he is utterly honest with his readers. He is a man not proud of his faults, but certainly unabashed about them.The Flashman novels could be dismissed as sensationalized light reading , but Fraser cleverly tied his character into most of the major events of the last sixty years of the nineteenth century, a Victorian Zelig or Forrest Gump. Flashman casually mentions this minor detail or that simple observation, then Fraser in his assumed role as editor of the Flashman papers meticulously explains in the endnotes how these mentions by Flashman confirm the truth of his narrative, since only if Flashman was there could he have known about this fact or that. Fraser's endnotes also round out the historic details of the narrative, giving background and elaboration to the history-as-I-lived-it tales told by Flashman. It all works wonderfully, even if you somewhat suspect that some details are being outrageously fabricated.I very strongly recommend these books to anyone who has an interest in history and is willing to keep an open mind towards the womanizing and the language (the n-word appears quite a bit, but completely in character for Flashman). I would suggest the best way to read them is in order of publication. This doesn't follow Flashman's own life chronology, but the books published later often make reference to previous editions of the "Flashman Papers" and so is more fun for the reader to follow.
Review by Donogh
16/06/2015
Despite the adulation many reviewers have for this book I avoided it for years, thinking it either a hammy romance or a tiresome historical novel. Having read the author's own memoirs (Quartered Safe out Here) i resolved to read it, being impressed with his skillful writing and wonderful self-deprecating sense of humour.Gladly my original expectations were overturned in a ... um, flash.Fraser's voice is pitch-perfect, and he sets the anti-hero on the romantic mid-19th century world with cynical abandon. Flashman is a cad, and early on in the book we cheer to see him caught out by a future in-law (my pealing laughter at his comeuppance did startle my fellow commuters!).When later on we clasp our hands to our heads hoping that this very same cad escapes from the terrible fate which surely awaits him it is Fraser's writing which makes our volte-face possible.Flashman's role in the First Afghan War is writ large. We do not believe Flashman's part in it to be because he is especially competent or deserving, but that he is simply (if astoundingly) lucky, and we are only slightly embarassed (no less than he is) by the plaudits and honours he receives at journey's end.
Review by MrsPlum
16/06/2015
Discovering Flashman has been my highlight for 2010. Fraser's skills as a novelist and historian is such that he created a character who remains ultimately likeable, despite his treatment of women. Indeed, there have been many such men in life – why not in art? Admittedly, had I leapt into Flashman chronologically, with this book first, I might not have been so enamoured, as we view him at his abusive worst in this most youthful of his adventures. Best of all, Flashy's account of his service in Afghanistan and the grim retreat from Kabul is fabulous, gripping writing.
Review by nordie
16/06/2015
Let's face it: Flashman is not really a nice guy. He's a bully, a coward, a rapist, a racist and a drunk. His survival instinct means that he manages to get out of scrapes that can (and does) kill everyone around him. People around him mistake his cowardice, and resulting survival against all odds, as some form of heroism.Kicked out of Rugby, and having been blackmailed from one regiment to the next after marrying one of his conquests, he ends up in Afghanistan in the late 19th century - at a time when the British are to make one of their more ignoble retreats back to India. Whole regiments are slaugtered around Flashman, due in no small part to the incompitence of the officers around him. [written in 1969, decades before 9/11, this is a fictional illustration of why the West will never win in Afghanistan and would be lucky to come out with a draw].Did get a bit bored with the tediously long chapters and the constant battles, so not sure I'd like to read a sequel.
Also by George MacDonald Fraser | View all
Also in the The Flashman Papers series | View all