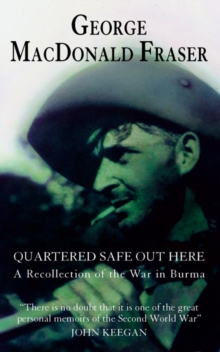 Quartered Safe Out Here
Paperback
Description
`There is no doubt that [Quartered Safe Out Here] is one of the great personal memoirs of the Second World War' John Keegan Life and death in Nine Section, a small group of hard-bitten and (to modern eyes) possibly eccentric Cumbrian borderers with whom the author, then nineteen, served in the last great land campaign of World War II, when the 17th Black Cat Division captured a vital strongpoint deep in Japanese territory, held it against counter-attack and spearheaded the final assault in which the Japanese armies were, to quote General Slim, "torn apart".
Information
Format: Paperback
Pages: 384 pages
Publisher: HarperCollins Publishers
Publication Date: 16/10/2000
Category: Autobiography: general
ISBN: 9780007105939
Free Home Delivery
on all orders
Pick up orders
from local bookshops
Reviews
Showing 1 - 5 of 5 reviews.
Review by SeriousGrace
16/06/2015
Quartered Safe Out Here is George MacDonald Fraser's "memoir" about being in Burma as a 19 year old soldier in World War II. While it's a vivid and honest first hand account about being in the thick of battle, I found it slow moving and tiring. Fraser takes great pains to get every accent phonetically spelled out - so much so that the written page looks like a foreign language at times. But, it wasn't the accents that I found the most tiresome. It was the fact that nearly every every other page contained a footnote containing a special explanation or definition. Fraser could have added another 50 pages if the footnotes were included in the body of the text. Probably the scene that held my attention the best was when Fraser was looking in bunkers for 'Japs.' His innocence to the danger is touching.
Review by johnthefireman
16/06/2015
George MacDonald Fraser is perhaps better known for his humour, in the Flashman series. This book certainly contains humour, as it details the boredom and farce of the everyday life of a soldier. In some ways it is thus similar to Spike Milligan's books on the war. But, unlike Milligan, Fraser saw real active service in the front line in Burma, and he recounts the horrors of war at first hand.One theme that comes through strongly is that we cannot judge the actions of young national servicemen in 1945 according to the standards of the 21st century. It was kill or be killed, fighting a particularly fierce and ruthless enemy. Fraser killed, and saw his friends being killed.Like many others who study what soldiers fight for, Fraser says it is basically for your mates - in his case the 10-man infantry rifle section.He reflects on the problems of being an eye-witness. In a battle you see only a very small part of the action (or sometimes no action). If you are in action, you are totally focused on a very narrow front, on the people who are trying to kill you personally and you them. You are oblivious to all else. Thus, despite extensive research in the official records, he still finds it difficult to match some of his personal recollections with the official history.Fraser spends some time discussing the dropping of the atomic bombs, which probably saved the lives of either himself or some of his immediate friends, at great cost.To the modern reader he comes over as quite conservative, reactionary, right wing. And yet he is no armchair ideologue. His views have been formed by bitter experience, and he is prepared to justify them, while also remaining surprisingly open to people who disagree with him.This is an excellent read, not only for its exciting account of guerilla warfare, but also for its insights into various broad themes.
Review by JonSowden
16/06/2015
This is one of the few biographys of WWII that has had me laughing out loud - the carrot incident was all too credible, and the incident at the well just so unexpected. GMFs turn of phrase and timing makes these naturally funny incidents hilarious. I especially appreciated the detailed descriptions of the details of daily life for a rifleman in the 1940s - too often those nuts and bolts details get glossed over, and without them it becomes increasingly difficult to really visualise the trials and tribulations of the frontline. GMF is undoubtedly an iconoclast - his opinions are very strongly his own, from the worth of a Thompson vs a SMLE, or the atomic bombs, to the claggage a modern rifleman must lug about the place. While you may not agree with his opinions, they cannot be dismissed out of hand. I don't agree with, for example, his opinion on all the crud a rifleman has to carry now, but I really had to examine my own thoughts and reasons before I felt comfortable with that. Overall this is an outstanding biography of the rifleman's lot. I strongly recommend it in conjunction with "The Recollections of Rifleman Bowlby" and "And no Birds Sang".
Review by cajela
16/06/2015
A war memoir of campaigning in Burma during World War 2. This is not from the officers and strategists, but from a bloke on the pointy end of things. There may well be an important battle with objectives and military tactics going on here, but your bit is to stay put here in this ratty half demolished house on the edge of the jungle, and shoot any random Japs that come along, making sure you don't mistake them for Ghurkas or your friends, and then march over there for 18 hours in your soggy boots.Fraser writes well, and his characters are believable partly because they are so outlandish. They could have come straight from the pages of Spike Milligan. Country lads with heavy accents and down to earth manners, they live to trade herring for smokes, steal tea and sugar, and eat tinned fruit and nestles milk. Officers with bizarre affectations are taken in stride. It's mundane and funny, and then suddenly explosively violent and tragic, and then back to the mundane again.At times Fraser can be rather belligerently the conservative grumpy old man, but the overall humour and compassion make this thoroughly worthwhile.
Review by DinadansFriend
16/06/2015
GMF is an entertainer, and these are a lively set of war memoirs. The final year of the XIV Army campaign in Burma is our larger framework, and I got the clear and informative story that I was looking for. Well worth the read, and remember that these were the author's salad days, whose loss he regrets.
Also by George MacDonald Fraser | View all