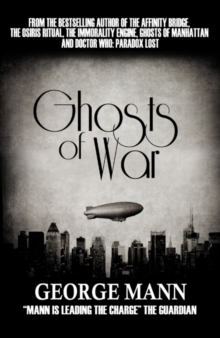 Ghosts of War
Paperback / softback
Description
Ghosts of War picks up the story a month after the end of Ghosts of Manhattan.
New York City is being plagued by a pack of ferocious brass raptors - strange, skeleton-like creatures wit batlike wings that swoop out of the sky, attacking people and carrying them away into the night.
The Ghost has been tracking these bizarre machines and is close to finding their origin: a deranged military scientist who is slowly rebuilding himself as a machine, and building a weapon - a weapon that will fracture dimensional space and allow the monstrous creatures that live on the other side to spill through.
He and his co-conspirators - senators and businessmen who seek to benefit from the ongoing cold war with the British - intend to harness these creatures and use them to crush their enemies. The Ghost knows only too well how dangerous these creatures can be and the threat they represent, not just to Britain but to the world. Suffering from increasingly lucid flashbacks to WW1 and subjected to rooftop chases, a battle with a mechanised mad-man and the constant threat of airborne predators, and with the fate of the world hanging in the balance, can the Ghost derail the conspiracy and prevent the war with the British from escalating beyond control?
Information
Format: Paperback / softback
Pages: 416 pages
Publisher: Snowbooks Ltd
Publication Date: 01/09/2011
Category: Fantasy
ISBN: 9781907777127
Other Formats
Hardback from £15.49
Paperback / softback from £7.45
EPUB from £3.99