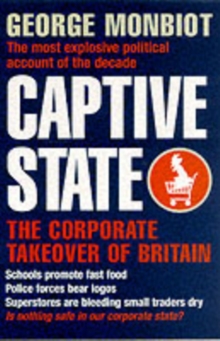 Captive State : The Corporate Takeover of Britain
Paperback
Description
A devastating indictment of the corruption at the heart of the British State by one of our most popular media figures.George Monbiot made his name exposing the corruption of foreign governments; now he turns his keen eye on Britain.
In the most explosive book on British politics of the new decade, Monbiot uncovers what many have suspected but few have been able to prove: that corporations have become so powerful they now threaten the foundations of democratic government.Many of the stories George Monbiot recounts have never been told before, and they could scarcely be more embarrassing to a government that claims to act on behalf of all of us.
Some are - or should be - resigning matters. Effectively, the British government has collaborated in its own redundancy, by ceding power to international bodies controlled by corporations.
CAPTIVE STATE highlights the long term threat to our society and ultimately shows us ways in which we can hope to withstand the might of big business.
Information
Format: Paperback
Pages: 256 pages
Publisher: Pan Macmillan
Publication Date: 07/09/2001
Category: Politics & government
ISBN: 9780330369435
Other Formats
EPUB from £9.59
Paperback from £11.79
Free Home Delivery
on all orders
Pick up orders
from local bookshops
Reviews
Showing 1 - 3 of 3 reviews.
Review by dylanwolf
16/06/2015
The movers and shakers in the modern world are the multinationals. The power of our democratically elected representatives has now been thoroughly usurped by the CEO of blue chip companies. A frightening reality given the rabid blatherings of bodies like the CBI. No wonder we now have no socialists to vote for. Monbiot, of course, panders to my wildest left-leaning sympathies in this fairly repetitive book. As Ani diFranco says "Why don't you just go and turn off the sun. Because we'll never live long enough to undo everything they've done to you". The unrelenting tsunami of commercialism sweeps away compassion, mercy, humility, charity, love and every other element of human dignity you could name in its path. The truism of anti-commercialism is that private companies can only function in their own self-interest; that includes the myth that they respond to customer needs.
Review by swadeson
16/06/2015
Presents an interesting perspective with a lot of case studies - too many or too much detail for my liking. The case studies just went on and on and became quite tiresome. Yea I know, there's an enormous amount of moral corruption out there these days but the message to the masses would be better made with shorter punchier examples that referenced on-line material for those whe need it.
Review by the.ken.petersen
27/08/2015
IF YOU HAVE NOT READ THIS BOOK, THEN SHAME UPON YOU.Have you ever noticed the sanctity of the reformed smoker? He/she is always the first to cough, grimace and make disapproving noises when some unfortunate lights up in their vicinity: well, I am fully aware that the first line of my review of a book written 15 years ago, and which I have only just got around to reading, is every bit as irrationally biased - but I stand by it. Captive State is a compelling and credible dissection of British Government in particular, but also World governance. Monbiot manages to be both 'chatty' enough to keep the average reader (me) engrossed from page 1 to 360, but also has sufficient gravitas to indicate his knowledge in the area. I was amazed that a topic which has the potential to be a difficult read could be so gripping. The background to TTIP, PFI's and other current issues are covered from scratch. One could (I did) begin with the sketchiest of a grasp of both these concepts and come away with a working understanding. I am not going to provide a second rate explanation of Monbiot, I will simply say that this book can be despatched to your door, for less than three English pounds and I will guarantee that you will consider it to be the most sensible expenditure that you have made in many a year... So what are you waiting for? Shouldn't you be visiting your favourite book seller?