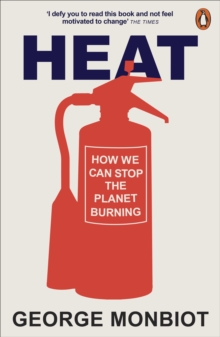 Heat : How We Can Stop the Planet Burning
Paperback
Description
Started to worry about just how hot our world is going to get, and whether you can do anything about it?
As the effect of climate change grows by the day, so does the amount of hot air and bluster spouted by politicians and businessmen on what we should do about it.
What with the excuses, the lies, the fudged figures, the PR greenwashing and the downright misinformation on the power of everything from wind turbines to carbon trading, when it comes to saving the world, most people don't know what they're talking about.
Luckily, George Monbiot - scourge of big business, riler of governments, arch-enemy of climate change deniers everywhere - does.
Packed with killer facts and inspiring ideas, shot through with passion and underlined by brilliant investigative journalism, with a copy of Heat you really can protect the planet. 'I defy you to read this book and not feel motivated to change' The Times
Information
Format: Paperback
Pages: 320 pages
Publisher: Penguin Books Ltd
Publication Date: 01/03/2007
Category: Central government policies
ISBN: 9780141026626
Free Home Delivery
on all orders
Pick up orders
from local bookshops
Reviews
Showing 1 - 2 of 2 reviews.
Review by abraxalito
16/06/2015
Pretty good overall - its tone is optimistic, positive, though there are some errors. The major one is that George thinks that high voltage DC transmission is the answer to electricity distribution - he's been reading too much ABB propaganda it seems. A more minor error is in the figures for China's CO2 output - its considerably worse than he states and growing fast. The message of global warming won't be heard coming from hypocrites - George says he's one but I'm not sure he really understands what this means. A hypocrite isn't merely someone whose ideals exceed their praxis, rather its someone who condemns others for the very things he does himself, justifying his own action by special pleading. So for example a journalist who condemns others for taking long-haul flights while cruising around in planes claiming to be 'consciousness raising' (and therefore exempt from condemnation) is a prime case of hypocrisy. I don't see George doing this. He does though at times appear to adopt a 'hair shirt' mentality towards his CO2 limiting behaviours - like saying he's 'refusing to own' a car, rather than choosing not to own one. This does smack of holier-than-thou and won't win him friends.
Review by Libra500
16/06/2015
A book both inspiring, as it shows practical solutions, yet depressing, as it doesn't seem likely that any of them will be put into practice. I think he may have been asking the wrong questions.