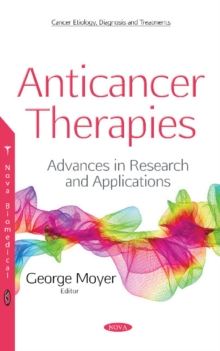 Anticancer Therapies : Advances in Research & Applications
Hardback
Description
In the first chapter, I-Ling Hung, Yu-Chiang Hung, and Wen-Long Hu examine the synergistic processes of herbal ingredients in order to help researchers discover new phytomedicines.
Next, in the second chapter, Muhammad Imran Qadir gives a synopsis of the discussion regarding the cure of developed prostate cancer by using androgen deprivation therapy.
Ddiethylstilbestrol was previously used to achieve androgen deprivation, but luteinising hormone-releasing hormone (LHRH) replaced it and a slew of detrimental effects ensued.
Unconventional therapy has been implemented to decrease the adverseness of treatment.
The third chapter, also by Muhammad Imran Qadir, elaborates on the risk factors of breast cancer, such as early menarche and late menopause.
In the fourth chapter, he discusses the impact of synthetic peptides in liver cancer management.
Continuing, he uses the fifth chapter to discuss the use of a hepatic sgRNA or single guide RNA delivery system to target a large proportion of gene sets to induce the hepatocellular carcinoma (HCC) and intra-hepatic cholangio-carcinoma (ICC), concluding that the CRISPR/Cas9 gene targeting could be used to manage HCC, the predominant cause of cancer-related deaths.
In the sixth chapter written by Muhammad Imran Qadir, the decrease in potential risk of cancer via blockers of IGF-1R in prostate and colon carcinomas and use of anti-IGF therapy in grouping of cytotoxic drugs is examined.
In the seventh chapter, Sara Tabassum joins Muhammad Imran Qadir in exploring the potential for telomere, or its enzyme, to be used as a target drug or in the screening process for treatment of cancer.
Muhammad Imran Qadir goes on to examine how CK-19 helps to differentiate papillary thyroid carcinomas from other malignant and benign forms in the eighth chapter.
In the ninth chapter, he analyses the distinctive biological properties of Nanoparticles due to small size and a large surface area to volume ratio.
In the tenth chapter, Muhammad Imran Qadir studies the part BRCA mutations play in breast cancer development.
Simona Martinetti, Mauro Partrone, Giorgio Calabrese, and Elia Ranzato review current research that suggests potential uses of ascorbate in cancer treatment in the eleventh chapter.
Lastly, the twelfth chapter provided by Muhammad Imran Qadir presents a study that offers a new modernisation for Caspase substrates.
Information
Format: Hardback
Pages: 154 pages
Publisher: Nova Science Publishers Inc
Publication Date: 15/10/2017
Category: Oncology
ISBN: 9781536126112
Free Home Delivery
on all orders
Pick up orders
from local bookshops