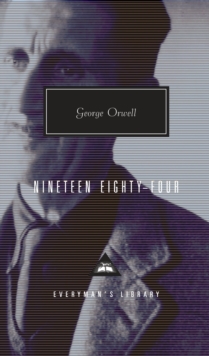 Information
Format: Paperback
Pages: 325 pages
Publisher: Random House USA Inc
Publication Date: 03/11/1992
ISBN: 9780679417392
Other Formats
Paperback from £7.39
EPUB from £8.09
CD-Audio from £17.45
Mixed media product from £10.22
eAudiobook MP3 from £17.60
Hardback from £32.95
Free Home Delivery
on all orders
Pick up orders
from local bookshops
Reviews
Showing 1 - 5 of 5 reviews.
Review by readafew
16/06/2015
I managed to miss this book all through high school and college but felt the need to read it because of all the references to it. This was a rather deep book and I was surprised at how off many of the impressions I got about it were from popular media. For some reason I was always under the impression that it ended in a sort of major defiance or something. Boy was I wrong.This book (for those who don't know) happens in an alternate earth history were totalitarian governments rule the world. The story is about Winston a party member in the Ministry of Truth, which is the ultimate authority on the Truth. Winston has a problem, he doesn't believe it, and he fears the thought police finding out this little nugget.This book has a great message of warning and paints an incredibly bleak picture of the future should government get to much power and stabilizes it. Excellent book but not light reading.
Review by jeff.maynes
16/06/2015
Were I ever to undertake the arduous task of listing my favorite novels, I am sure that Nineteen Eighty-Four (1984) would make the list. On one level, Orwell gives us a fascinating look at a dystopian society and the struggles of the "last man" to resist. He also gives us a brief, but potent account of the power of love in the face of external pressure.Above all, however, Orwell gives us a meditation on power, and one that is haunting long after you read the book. Indeed, the novel is relatively light on action. The protagonist, Winston, is not the sort of person to lead armed rebellion or to race down alleys to escape the Thought Police. Instead, the book is mostly composed of Winston's descriptions and analysis of his society, and the thoughts of others. The latter portions of the book are dominated by chapters of a book Winston is reading (a book within a book), and the arguments of the major antagonist of the work. These passages do not ask us to believe in the society of Oceania, or believe that this is the course of human history. What they ask us to believe is a series of claims about power, most importantly, that power (a) comes from control of belief, (b) that external power can shape our even most strongly held internal beliefs and that (c) power is sought for the sake of power itself (among many other thought-provoking aspects which Orwell reflects upon).The former comes through most vividly in the form of (collective) solipsistic view that the Party favors. This is brought out explicitly in the scenes at the end of the book, wherein Winston is put under incredible pressure to accept it. The scenes I found most effective here, however, are in Winston's description of his daily work. His job is to correct history, to change every historical record to reflect the changing realities of the time. So if a party member has fallen into disrepute, it is Winston's job to show that he has always been in disrepute. If the enemy in the ongoing war changes, then it is Winston's job to show that the war has never changed. It is total information control, and Orwell masterfully illustrates the frightening possibility that one cannot rationally engage those who simply demand an ideological driven view of reality.It is hard to discuss the second without spoiling the ending of the novel. Allow me simply to say that the passage in Room 101 is among the most affecting in all of English literature. It is frightening, indeed, I find it more frightening than almost anything else I have ever read. We, like Winston, tend to think of ourselves in terms of certain relationships, and ideas that we will hold on to. My wife is that limit, and my feelings for her are something I could never yield, no matter the pressure. At least, this is my self-conception. Yet, Orwell (like social psychologists after him) cast this into doubt. Are none of our most dear, most sacred, most definitional beliefs, ideas and feelings safe from external pressure and one's own deep-seated need to save oneself? Is my self-conception really simply a sign that this commitment has simply never been tested hard enough? The third is most eloquently discussed in the final scenes of the book. When asked about why the Party rules as it does, Winston gives the answer he thinks is required of him, that the Party does it for the good of those who cannot rule themselves. Yet, with brutal frankness, the primary antagonist tells him that "The object of persecution is persecution. The object of torture is torture. The object of power is power." This leads into perhaps the most famous passage from the novel:"But always—do not forget this Winston—always there will be the intoxication of power, constantly increasing and constantly growing subtler. Always, at every moment, there will be the thrill of victory, the sensation of trampling on an enemy who is helpless. If you want a picture of the future, imagine a boot stamping on a human face—forever."The individual who seeks power for the greater good (think of Plato's Republic) is one who can be reasoned with. If Plato is wrong that individuals who grasp the Good will, as a consequence, be motivated to do good things, he might be dissuaded of the idea that the few ought to rule. Orwell's ruler is far more frightening, for s/he rules for the sake of ruling, holding power for the sake of power. This is a position beyond reasoned argument, based purely on the intoxication of power. These are passages that will linger long after one finishes 1984.I cannot recommend this novel highly enough. It is far more than a simple dystopian vision of a possible future, and more than a warning about certain political ideas. It is a masterwork of engaging with complex ideas (in this case, the nature of power) in the setting of a novel. Though the prose is brilliant and easy to read, this is a novel which rewards slow reading and thoughtful consideration.
Review by JVioland
16/06/2015
Perhaps were nearing 1984. Doublespeak predominates. Words mean the opposite of their definition. Bureaucrats rule over idiosyncrasies. No one is accountable to the citizens, but citizens are accountable to their government. Read this classic again.
Review by teaswirls
16/06/2015
Amazing. The transition from calm to chaos in the last third of the book was perfect and unexpected. The last hundred or so pages my stomach was clenched and I couldn't stop turning the page.
Review by unclebob53703
02/03/2016
His dystopian masterpiece of a bleak society where love doesn't stand a chance. As depressing as it is unputdownable.