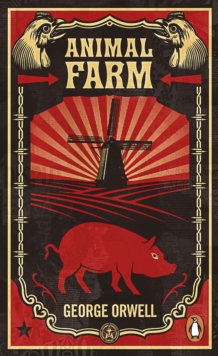 Description
Renowned urban artist Shepard Fairey's new look for Orwell's timeless satire'All animals are equal.
But some animals are more equal than others.'Mr Jones of Manor Farm is so lazy and drunken that one day he forgets to feed his livestock.
The ensuing rebellion under the leadership of the pigs Napoleon and Snowball leads to the animals taking over the farm.
Vowing to eliminate the terrible inequities of the farmyard, the renamed Animal Farm is organised to benefit all who walk on four legs.
But as time passes, the ideals of the rebellion are corrupted, then forgotten. And something new and unexpected emerges. . . Animal Farm - the history of a revolution that went wrong - is George Orwell's brilliant satire on the corrupting influence of power.
Information
Format: Paperback
Pages: 112 pages
Publisher: Penguin Books Ltd
Publication Date: 03/07/2008
ISBN: 9780141036137
Other Formats
Paperback from £4.99
Hardback from £8.35
CD-Audio from £9.95
EPUB from £4.99
eAudiobook MP3 from £5.09
Mixed media product from £26.89
Free Home Delivery
on all orders
Pick up orders
from local bookshops
Reviews
Showing 1 - 3 of 3 reviews.
Review by kimbee
16/06/2015
A quick read but a must read! I'm glad I didn't read it in high school because I would not have understood the meaning of the book. Even now I had to look up some characters to see who they represented during the Russian Revolution. Orwell is a genius for writing this book. Even though the book is small, there were many moments that frustrated me. Boxer was my favorite character.
Review by Cynical_Ames
16/06/2015
It took me by surprise how much I loved this classic and how eerily relevant and applicable it is considering today's politics, Britain's in particular. The Arab Spring is also a good example of a modern day Animal Farm.<br/><br/>I highlighted this one to death. In pencil, of course. I'm not a barbarian.
Review by jenn88
02/03/2016
Just before Old Major dies, he describes a dream he had about a world where animals live free from their masters. After he dies, the rest of the animals on the farm plot revenge against their master mister Jones. Snowball and Napoleon (pigs) are important figures in the new movement. When their master neglects to feed them, the revolution happens and Jones and his men are chased off the farm. The farm is renamed to Animal Farm and Seven Commandments of Animalism were written. Jones eventually came back to recapture the farm, but was defeated. Animal farm expands and life becomes tough for the rest of the animals except for the pigs, who begin to express many qualities of their former master. The Seven Commandments are reduced to only one law which is that all animals are equal but some are more equal than others. In the end the rest of the animals cannot differentiate between human and pig.<br/><br/>It's a satire about the Communist takeover of Russia. The pigs represent the Communist leadership and the rest of the animals represent different parts of Russian society and how the takeover affects them.