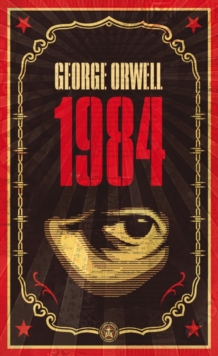 Nineteen Eighty-Four
Paperback
Description
Renowned urban artist Shepard Fairey's new look for Orwell's classic dystopian tale One of Britain's most popular novels, George Orwell's Nineteen Eighty-Four is set in a society terrorised by a totalitarian ideology propagated by The Party.
Winston Smith works for the Ministry of Truth in London, chief city of Airstrip One.
Big Brother stares out from every poster, the Thought Police uncover every act of betrayal.
When Winston finds love with Julia, he discovers that life does not have to be dull and deadening, and awakens to new possibilities.
Despite the police helicopters that hover and circle overhead, Winston and Julia begin to question the Party; they are drawn towards conspiracy.
Yet Big Brother will not tolerate dissent - even in the mind.
For those with original thoughts they invented Room 101...Nineteen Eighty-Four is George Orwell's terrifying vision of a totalitarian future in which everything and everyone is slave to a tyrannical regime.
The novel also coined many new words and phrases which regular appear in popular culture, such as 'Big Brother', 'thoughtcrime', 'doublethink' and 'Newspeak'.
Information
Format: Paperback
Pages: 336 pages
Publisher: Penguin Books Ltd
Publication Date: 03/07/2008
Category: Classic science fiction
ISBN: 9780141036144
Other Formats
eAudiobook MP3 from £5.09
Paperback from £6.29
Hardback from £10.00
CD-Audio from £9.95
EPUB from £4.99
Mixed media product from £26.89
Paperback / softback from £9.99
Free Home Delivery
on all orders
Pick up orders
from local bookshops
Reviews
Showing 1 - 5 of 8 reviews.
Previous | Next
Review by Ebba
16/06/2015
First time reading this classic book. It could have been a better rating if it had not been for the quite boring part about "The Book". The ending was also disappointing to me. Very interesting read and well worth my time
Review by ariebonn
16/06/2015
Nineteen Eighty-Four is one of those books which you feel you must read at some point in your life, and after sitting on my shelf for a long time I finally decided it was time to pick it up.It is 1984 and in the state of Oceania, Winston Smith is struggling with the oppression of Big Brother. Everything is under the watchful eye of the party and with most things being banned, everyone must be very careful of what they do and even more so what they think. Winston is trying hard to hang on to his memories of when life was different, but nowadays he is starting to doubt if things were ever better or if everything was in his imagination. He does not agree with what the party is doing and has always had rebellious thoughts, but it is only when he decides to pursue a relationship with Julia that their actions bring him under the spotlight.I had great expectations for this book but I was somewhat disappointed to find that it was not what I always thought Nineteen Eighty-Four would be. The beginning was good and it had me hooked for a while, until it started to dwindle and even got a little tedious at times. I liked the premise however the characters seemed weak and most of them not very interesting. My biggest complaint about this book though has to be the entire excerpt from "The Book", this was too long and it quickly got boring, I would have preferred if there were shorter highlights or even just a brief description of the concept. If this book is meant to instill the fear of Big Brother in the reader, it didn't do that at all for me and that is probably why I was disappointed, I was expecting it to be more thought provoking in the way that Animal Farm was. I am still glad that I read Nineteen Eighty-Four and perhaps this would have been more valid in the time it was written, I am just a little let down that it wasn't the great book I was hoping for. I must say that I loved Animal Farm by the same author much more. When I finished Animal Farm I had to stop and think for a while and it was scary how true it felt. I expected to have the same reaction to Nineteen Eighty-Four but in the end it wasn't quite the same.
Review by BookshelfMonstrosity
16/06/2015
I find it very intimidating to review a well-known classic. I think since there is so much information on both the book and the author that I will just touch on a few of the concepts pervasive in the novel and, considering this is one of the daddies of dystopia, how the novel's presence has impacted literature as a whole.Big Brother is the ever-present leader of the party, staring at the citizens of Oceania wherever they go with the aide of...moreSee my full review posting here.I find it very intimidating to review a well-known classic. I think since there is so much information on both the book and the author that I will just touch on a few of the concepts pervasive in the novel and, considering this is one of the daddies of dystopia, how the novel's presence has impacted literature as a whole.Big Brother is the ever-present leader of the party, staring at the citizens of Oceania wherever they go with the aide of telescreens. Winston, an employee of the Ministry, isn't really sure if Big Brother actually exists or if he's really even an actual entity. The point Orwell is making here is that the party is always watching and has complete control over its citizens' bodies and minds. As party members go higher up in the ranks, vagueness ensues until one realizes that no one really knows who is ruling the country.One of the most disturbing examples of the Party's mind control, and there are many, is illustrated in the description of Winston's job. His role within the party as propaganda officer is to alter official government publications in order for them to fit with the Party's official version of how events really went down. The Thought Police are constantly vigilant, searching out dissenters of the Party. They monitor citizens to the point where having a dissenting thought against the party is against the law and punishable.Inevitably, Winston becomes one of these disillusioned dissenters,and he is arrested and tortured for it. During his interrogation, his captors explain to him that he will be re-integrated, or brainwashed, back into the Party.The influence of Orwell's 1984 is indeed extensive; how many times have you heard someone describe something as "Orwellian"? Anthony Burgess wrote 1985, which was intended to be a sequel to Orwell's original work. In more recent work, Cory Doctorow's Little Brother directly references 1984's Big Brother, and Doctorow's main character, Marcus Yellow, is a direct reference to Winston Smith.I recognize this book's extreme importance in the field of dystopian literature, and I found parts of it to be truly terrifying. However, parts of the novel, especially the segment in which Winston read entire chapters of the underground opposition party's manual, moved very slowly and were very dry. I'm glad I've read it but will probably not revisit it.
Review by jolerie
16/06/2015
Big Brother is all-encompassing, all-knowing, all-pervasive. Big Brother is the Alpha and the Omega. Big Brother is the god of this new world order where rebellion and subversive behaviour, whether implicit or explicit, intentional or accidental will be punished - it is just matter of when, not if. Winston and Julia are determined to battle this goliath by challenging and undermining the rules that have been set by those who are just as determined to obliterate any form of dissension. George Orwell's 1984 is classic dystopian literature at its best. A world where everything and anything you say, do, think, or didn't think are monitored and scrutinized is the setting of this story where totalitarianism is only a plaything of the past - Ingsoc is the now and the future. There isn't much I can add to numerous reviews and critiques of this brilliant piece of work but if there is one thing I can contribute, it would be this - if Mr. Orwell didn't hack it as an author, he would have made one hell of a Big Brother. Long live Ingsoc.
Review by kpolhuis
16/06/2015
It is a great puzzle to me why my highschool thought that I should read this when I was fifteen years old. There were some obvious issues that I could understand at such a tender age, yet there were subtleties I did not even notice. I did, naturally develop an interest in Orwell's books (bought most of them in my late teens/early twenties), but have not really appreciated them until now when I am in my early forties (with a great deal of experience and education to help me understand what was puzzling to me at fifteen). There is a brilliance without compare in his writing, an intelligence and perception that provokes deep emotion within me. Re-reading this twenty-five years later, I see a depth and undertanding in this book that I was amazed to read (and sorry to have missed the first time around). Things, that before I just acknowledged (like the abuse of the english language), gave me feelings of horror and shock. Since I have just recently read Mikhail Bolgakov's 'Master and Margarita', I recognise the template that Orwell used, and it is with dismay that I realised that Orwell did not have to imagine this, it has already happened in one form or another. It is a reminder/warning to me that Orwell's concerns are still valid and that the written word, democracy and basic humanity is still in danger. Sixty-two years later, this book is still relevant.