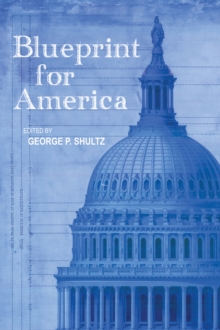 Blueprint for America
Paperback / softback
Description
The American ability to inspire-which we call exceptionalism-is not automatic.
It takes continued efforts to be realized in a changing world.
In this book, scholars at the Hoover Institution-professors, thinkers, and practitioners of global renown in their respective fields-offer a series of accessible policy ideas for civic, economic, and security architecture that would shore up the long-term foundations of American strengths.
Blueprint for America takes a beyond-the-Beltway look at the basic policies that should be prioritized by the next president and Congress.
Economists Michael Boskin, John Cogan, John Cochrane, and John Taylor address questions of entitlement reform, deficits, monetary reform, national debt, and regulatory and tax reform.
Scott Atlas draws on his experience in the practice of medicine to tackle the Affordable Care Act and propose incentive-based health care reforms.
Cochrane returns to reframe the hot-button political discourses on immigration and international trade.
Eric Hanushek addresses the current performance--and reform--of K-12 education.
Retired admiral James Ellis, retired general Jim Mattis, and Kori Schake offer their visions of how to restore America's national security through proactive and realistic agenda setting.
Ellis follows with a rethink of energy security strategy in an era of abundance and James Goodby expounds on the country's practice of diplomacy in a time of turbulent transition.
George Shultz draws from his experiences in government, industry, and academia to lead off each section with a range of clear-eyed observations on spending, human resources, foreign policy, and, in conclusion, the art of governance.
The spirit of Blueprint for America is positive and grounded in first principles, offering ideas, diagnoses, solutions, and road maps for the long view.
Information
Format: Paperback / softback
Pages: 224 pages
Publisher: Hoover Institution Press,U.S.
Publication Date: 30/09/2016
Category: Politics & government
ISBN: 9780817919955