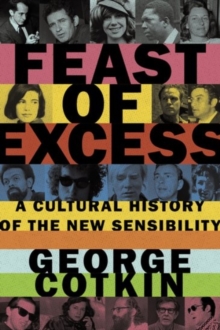 Feast of Excess : A Cultural History of the New Sensibility
Hardback
Description
Written in a lively and accessible style, Feast of Excess traces in brief chapters the history of the New Sensibility in America.
The book opens with John Cage in 1952, experimenting with an excess of minimalism in his musical piece of silence, 4' 33" and in his chaotic, maximalist work Theater Piece, No. 1. Feast concludes in 1974 with performance artist Chris Burden who, among other things, had himself shot in the arm, crucified to a VW bug, andspent days scrunched up in a locker.
Each chapter, devoted to a single year, allows for the moment of creation to be fixed in the biography of the artist(s), the historical moment, and the emerging tradition of the New Sensibility.
This New Sensibility was predicated upon excess, pushing things, going too far, whetherin the direction of minimalism or maximalism.
This excess was, in general, directed at shared concerns, including violence, madness, sexuality, confession, the performative, breaking down barriers between artist and audience, and between high and low culture.
It was about liberation. The New Sensibility emerged across varied artistic endeavors in the early 1950s before being named as a specific phenomenon in the mid-1960s by both Susan Sontag and Tom Wolfe.
By the middle 1970s, this excess inAmerican culture had become established as the norm.
It remains the essence of our culture today, for good and ill.
The excess at the center of the New Sensibility can disgust, at times, but when it is leavened with a sense of limits, it can result in cultural products of the highest quality, as wellas resist easy consumption and commodification.
Information
Format: Hardback
Pages: 448 pages
Publisher: Oxford University Press Inc
Publication Date: 11/02/2016
Category: History of the Americas
ISBN: 9780190218478
Free Home Delivery
on all orders
Pick up orders
from local bookshops