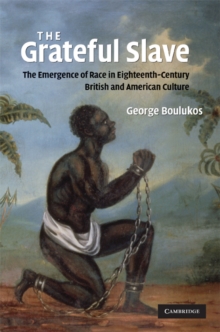 The Grateful Slave : The Emergence of Race in Eighteenth-Century British and American Culture
Hardback
Description
The figure of the grateful slave, devoted to his or her master in thanks for kind treatment, is ubiquitous in eighteenth-century writing from Daniel Defoe's Colonel Jack (1722) to Maria Edgeworth's 'The Grateful Negro' (1804).
Yet this important trope, linked with discourses that tried to justify racial oppression, slavery and colonialism, has been overlooked in eighteenth-century literary research.
Challenging previous accounts of the relationship between sentiment and slavery, in this book George Boulukos shows how the image of the grateful slave contributed to colonial practices of white supremacy in the later eighteenth century.
Seemingly sympathetic to slaves, the trope actually undermines their cause and denies their humanity by showing African slaves as willingly accepting their condition.
Taking in literary sources as well as texts on colonialism and slavery, Boulukos offers a fresh account of the development of racial difference, and of its transatlantic dissemination, in the eighteenth-century English-speaking world.
Free Home Delivery
on all orders
Pick up orders
from local bookshops