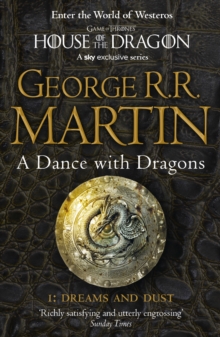 A Dance With Dragons: Part 1 Dreams and Dust
Paperback
Description
HBO's hit series A GAME OF THRONES is based on George R R Martin's internationally bestselling series A SONG OF ICE AND FIRE, the greatest fantasy epic of the modern age.A DANCE WITH DRAGONS: DREAMS AND DUST is the FIRST part of the fifth volume in the series.`Richly satisfying and utterly engrossing' Sunday TimesIn the aftermath of a colossal battle, new threats are emerging from every direction.Tyrion Lannister, having killed his father, and wrongfully accused of killing his nephew, King Joffrey, has escaped from King's Landing with a price on his head.To the north lies the great Wall of ice and stone - a structure only as strong as those guarding it.
Eddard Stark's bastard son Jon Snow has been elected 998th Lord Commander of the Night's Watch.
But Jon has enemies both inside and beyond the Wall. And in the east Daenerys Targaryen struggles to hold a city built on dreams and dust.
Information
Format: Paperback
Pages: 704 pages
Publisher: HarperCollins Publishers
Publication Date: 01/03/2012
Category: Fantasy
ISBN: 9780007466061
Free Home Delivery
on all orders
Pick up orders
from local bookshops
Reviews
Showing 1 - 5 of 8 reviews.
Previous | Next
Review by devenish
16/06/2015
A more difficult book to read than any of the previous ones. The main reason for this statement is that quite a few new characters make an appearance. Also (and this will probably be considered as rank treason) I am beginning to feel that the whole thing has gone on for rather too long! After all even 'War and Peace' was much shorter than this. I am also led to believe that there are at least two more long books to go (and probable more) Well if you're onto a good money-spinner why not.
Review by AHS-Wolfy
16/06/2015
It's been a while since I read book 4 but didn't really have any problems sinking straight back in to this series (the TV show has probably helped with this). Books 4 & 5 run more or less in tandem following different groups of people in each tome. This one deals with what happens to Tyrion, Jon Snow, Daenerys, Bran, Stannis, Reek and a few other subsidiary characters. Each chapter is headed by character name so you know who's up next and as some chapters end on cliff-hangers you want to jump ahead at times to see what happens to that person/group rather than returning to somebody else's tale.Considering this is a fairly sizeable book (624 pages without the appendix) the overall story arc isn't greatly advanced. It ends with a lot of people still in the same place they started. As this is not really a complete book the ending isn't really a conclusion, it just stops and of course some of the characters face imminent peril so I guess I'll just have to move straight on to Part 2.
Review by Elliots89
16/06/2015
I still feel there are far too many characters, and with the introduction of more in this first part of 'A Dance with Dragons', it can at times be very confusing. However apart from this minor criticism the book is still a thoroughly enjoyable read, with many of the favourite characters being devoted heavy chapters in this book.
Review by Kassilem
16/06/2015
My first read through of the newest book in the Song of Ice and Fire series. The book itself isn't so new now but I had to do a reread of the previous four books before I was going to tackle this one. I'm glad I did. Without the rereads I would have been very confused about why some people were in the places they were and why they meant when they said some things. Martin includes some explanations but these are integrated into the story and not really meant as a fill-in for readers. Martin expects you to have read all the previous books and kept up with the goings-on in the realm. I enjoyed this book. This book happens at the same time as book four does. There was just too much material to write about that Martin had to split it all into two books. And whereas the fourth book consisted of many viewpoints from characters I either didn't like or wasn't invested in, I didn't like it as much as I'd hoped. This volume however has the viewpoints of some of my favorites: Jon, Tyrion and Daenerys. It's a long book though. And I'm only halfway done: this book was too big as well and was divided into two. That is a lot of damn hours of reading/listening but in the end it is all worth it. I've said it before, but this series is a masterpiece; very complex and dark but fantastic. It's not for everyone, but if you can handle it, you'll never forget it.
Review by atreic
16/06/2015
Again, I read these through back to back in a couldn't-put-them down way, but they have all merged!
Also in the A Song of Ice and Fire series | View all