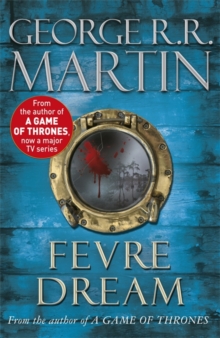 Description
Abner Marsh has had his dearest wish come true - he has built the Fevre Dream, the finest steamship ever to sail the Mississippi.
Abner hopes to race the boat some day, but his partner is making it hard for him to realise his ambition.Joshua York put up the money for the Fevre Dream, but now rumours have started about the company he keeps, his odd eating habits and strange hours.
As the Dream sails the great river, it leaves in its wake one too many dark tales, until Abner is forced to face down the man who helped to make his dreams become reality.
Information
Format: Paperback
Pages: 400 pages
Publisher: Orion Publishing Co
Publication Date: 28/08/2008
Category: Horror & ghost stories
ISBN: 9780575083042
Free Home Delivery
on all orders
Pick up orders
from local bookshops
Reviews
Showing 1 - 2 of 2 reviews.
Review by AdonisGuilfoyle
16/06/2015
Bram Stoker's ancient race of urbane vampires meets Mark Twain's Mississippi in a beautifully told old-fashioned horror story. Riverman Abner Marsh strikes a deal with a mysterious gentleman named Joshua York to build the largest, finest steamboat ever to sail the Mississippi. Marsh names her the <i>Fevre Dream</i> and plans on racing her against the current queen of the waters, the <i>Eclipse</i>, but York has other, darker reasons for wanting to be a steamboat captain. He is the only one of his kind to master the 'thirst' for human blood, but there are other vampires in the south who are not so willing to surrender the night for the day. Damon Julian has been holed up in a decaying New Orleans plantation for years, feeding on the slaves and beautiful young Creole women that his human servant, Sour Billy, brings to him, only he cannot survive there for much longer. When Damon learns that York is on his trail, the ancient vampire decides to confront his greatest rival - aboard the <i>Fevre Dream</i>. Life on the river will never be the same for Abner Marsh, if he survives at all.Although vampires are ten a penny in horror novels, George R.R. Martin's gothic novel is set apart from the rest by an unusual premise and lyrical writing. Abner Marsh is an ugly and hornery old riverman, down on his luck, who goes into business with the suavest of vampires, and the clash of cultures is like reading a mash-up of <i>Dracula</i> and <i>Huckleberry Finn</i>. Both men are vividly portrayed in stark contrast to each other, Marsh's 'flat, pushed-in nose and a faceful of warts' against York's grey eyes, like 'fog on the river on a dark night' and 'long, cool face', but the <i>Fevre Dream</i> herself is a larger than life character. My only knowledge of steamboats comes from watching <i>Showboat</i>, a 1950s musical with Howard Keel, but the scale and majesty of the <i>Dream</i> is so lovingly detailed by Marsh that the reader can clearly imagine her steaming down the river in all her blue and silver glory. I found myself totally drawn into the colour and sensuality of the Mississippi in the 1850s, savouring Marsh's gargantuan meals and feeling the oppressive heat of the day. The vampires almost got in the way of a far more captivating novel about steamboats and the captains and pilots who ran the river, and I shall definitely have to read Mark Twain's novels to learn more about the history and personalities of the era which inspired Martin.
Review by lcrabtree
16/06/2015
Not my usual reading but it came recommended by someone and it wasnt so bad.