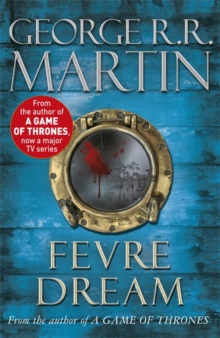 Description
Abner Marsh has had his dearest wish come true - he has built the Fevre Dream, the finest steamship ever to sail the Mississippi.
Abner hopes to race the boat some day, but his partner is making it hard for him to realise his ambition.Joshua York put up the money for the Fevre Dream, but now rumours have started about the company he keeps, his odd eating habits and strange hours.
As the Dream sails the great river, it leaves in its wake one too many dark tales, until Abner is forced to face down the man who helped to make his dreams become reality.
Information
Format: Paperback
Pages: 352 pages
Publisher: Orion Publishing Co
Publication Date: 11/01/2001
Category: Horror & ghost stories
ISBN: 9781857983319
Free Home Delivery
on all orders
Pick up orders
from local bookshops
Reviews
Showing 1 - 1 of 1 reviews.
Review by AHS-Wolfy
16/06/2015
Abner Marsh runs the Fevre River Packet Company for what it's worth. Most of his steamboats have been lost and all his company consists of now is one small old bucket of a boat that's not got too much longer left to sail the mighty Mississippi. That's why he jumps at the chance when he is offered almost unmitigated wealth to build his dream boat. A paddle steamer to match and even best the Eclipse, the biggest, fastest boat on the river. All it will take is for Abner to take on a new partner and accommodate his unusual living habits and to ask no questions thereof and to allow Joshua York, his new partner, to make infrequent stops as he deems fit and allow passage for his companions and others he may bring aboard. Having no other recourse for his business to stay afloat Abner agrees and so the boat, Fevre Dream, is built and crewed and sets sail on the river. At first everything goes well and Abner is looking forward to building his reputation back up so that he can get to race against the Eclipse and prove that he has the fastest ship in existence. But it's not long before rumours surface about his mysterious partner. He's never seen in daylight and the stops he orders the boat to make seem to coincide with grisly events onshore. Abner gets a might curious as to the sort of character his new partner is and despite his promise starts to snoop and question his activities. Will he like what he finds out?This is a very atmospheric novel set in the Deep South of the 1850's. Pre-abolitionism so slavery is is a subject that is touched upon throughout the story and features the language of that time and place so avoid if that doesn't suit your reading tastes. There is also plenty of blood and gore (this is a vampire tale after all) but usually told of from a third person point of view but what is there can be quite brutal and unforgiving. This novel is not just a horror tale involving the tried and trusted vampires of many another story. There is a slightly different take on show here but what really makes the book is the relationship between Abner and Joshua through initial misgivings to trust and friendship that defies many an obstacle set along its path. A pretty darn good read.