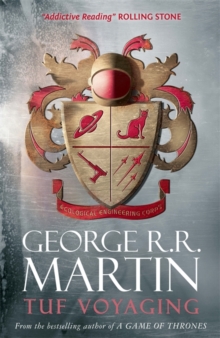 Description
A classic novel from George R.R. Martin, author of the hit HBO TV series A GAME OF THRONESHaviland Tuf is an honest space-trader (one of the few), and he likes cats.
So how is it that, despite being up against the worst villains in the universe, he has become the proud owner of the last working seedship, pride of Earth's Ecological Engineering Corps?We'll leave that aside for now - just be thankful that the most powerful weapon in space is in good hands, hands which now control cellular material for thousands of outlandish creatures.With his unique equipment and powerful spacecraft, Tuf is set to tackle the myriad problems that human settlers have created during their colonisation of far flung worlds.
Hosts of hostile monsters, a population addicted to procreation, a dictator who is willing to unleash plagues to get his own way - and all that stands between the colonists and disaster is Tuf's ingenuity, and his reputation as an honest dealer in a universe of rogues ...
Information
Format: Paperback
Pages: 448 pages
Publisher: Orion Publishing Co
Publication Date: 01/01/2013
Category: Science fiction
ISBN: 9780575129528
Free Home Delivery
on all orders
Pick up orders
from local bookshops
Reviews
Showing 1 - 1 of 1 reviews.
Review by adpaton
16/06/2015
Ever since Game of Thrones hit TV, George Martin has become hot property and fans who are eagerly awaiting the conclusion of his Song of Ice and Fire series will be disappointed by the publication of a book which has nothing to do with the GoT saga. Tuf Voyaging is not new however: the publishers have raided his back list and reprinted an old collection of stories about an enigmatic space trader and cat lover, Haviland Tuf. Set in the far distant future, the loosely connected tales relate to adventures and quandaries of Tuf, a giant, bald albino, who has acquired a giant space ship devoted to genetic engineering, and travels the universe as a profiteering problem solver. Tuf may not be a very sympathetic hero but he is a very engaging character, wry, dry and probably autistic, who gives moral complexities short shrift – and would probably be quite at home in the Kingdom of Westeros.