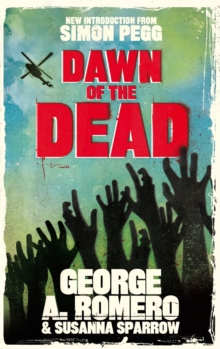 Dawn of the Dead
Paperback
Description
When there is no more room in hell, the dead will walk the earth.George A.
Romero's iconic film and novel terrified generations.Now Dawn of the Dead is back to terrify once more.The world is being devastated by zombies.
No one knows how far they have spread, or how to stop them. And as the living fight to save themselves, society collapses.
Four people escape the chaos of downtown Philadelphia and find shelter in a shopping mall.
As the survivors exhaust their greed and the undead scrape at the doors, the refuge becomes a prison.And soon there will be nowhere left to hide . . .The classic horror that inspired a genre: if you haven't read this yet, you need to.
If you have, you'll want to again.Includes a brilliant and exclusive introduction from Simon Pegg.
Information
Format: Paperback
Pages: 320 pages
Publisher: Little, Brown Book Group
Publication Date: 01/05/2012
Category: Horror & ghost stories
ISBN: 9780751549157
Free Home Delivery
on all orders
Pick up orders
from local bookshops
Reviews
Showing 1 - 2 of 2 reviews.
Review by Bridgey
16/06/2015
Dawn of the Dead - George A Romero *A really awful book. I think this 'novel' was written after Susanna Sparrow sat down and watched the film (and probably after a few glasses of wine).First of all, I loved the film. I think it is at the top of its genre, but that doesn't mean that the book is great piece of writing.The plot consists of four main characters who take refuge in a shopping mall. The undead are coming back to life with a taste for human flesh. Not only must the protagonists survive the Zombies, but must also battle against their own egos.The main reason I cannot give the book more than a single star is the very poor writing, if you can deal with every other sentence starting: Fran said...... Then Peter said...... so Roger said.I found this so annoying that I had to check several times if I was actually reading a book or a script.If you enjoyed the film or your completist of Zombie media, then give it a try. But prepare to be disappointed... I was.
Review by SilverThistle
16/06/2015
My first finish of 2013! Hope it's the first of many :)<br/><br/>If you've seen Dawn of the Dead in movie form then you won't be getting anything new by reading the book - but you <i>will</i> be losing the cheesiness and most of the lameness.<br/><br/>Usually when a book spawn's a movie, 9 times out of 10 the book is better. This time I have to say that even though they're virtually scene for scene exactly the same, the book is <i>still</i> better.<br/><br/>I never really got with the program on the Dawn of the Dead cult movie fandom. The acting was lame and the zombie's were hysterical and overall it just had a really, really bad 'B' movie feel to it. I know, I know...that's what makes it cult...I just didn't buy into it. The book wasn't that bad though, all things considered. <br/><br/>The characters don't seem so cardboard and the zombies seem a 'tiny' bit more menacing, somehow, and I think that if this book was the first of it's kind (as the movie was) then this would be great, but it's not the first and it's far from the best. The characters get a bit of an upgrade and have more of a 'zombie apocalypse survivor' feel to them. They're a bit more savvy and hardened to the situation and they're given a bit of backstory each, which makes them a little more fleshed out but you'd still recognise them from the film.<br/><br/>I don't know why I was hoping for a better ending this time, since I knew what was coming but still I hoped for a bit more closure this time around. I was left hoping...<br/><br/>If you've seen the film it's worth reading for the little bits of 'what's going on in their head' moments, and if you haven't seen the film then it's still worth reading as it's actually an OK zombie book. Consider it written at the same time as the film and you'll have an idea of what to expect. It's a 1970's zombie book. That's pretty much the size of it.