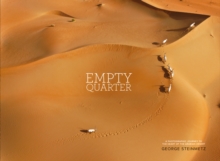 Description
Aerial photographer George Steinmetz, shooting from a motorized paraglider, has created an unparalleled portrait of Rub' al-Khali, or "the Empty Quarter," the largest and most likely the hottest sand desert in the world.
Although only a fraction of the size of its giant neighbor, the Sahara, the Empty Quarter's punishing terrain has rarely been captured on film, and never from such a striking perspective.Old maps, satellite images, and a dose of Arabian hospitality enabled Steinmetz to travel where few have ventured.
He reveals in his photographs a true wilderness, without a single permanent human habitation or known point of water, preserved by its harsh climate and extreme remoteness, as well as a fascinating tradition of a hardy people living at its edges.
For experienced travelers or explorers and for those who have never heard of the Empty Quarter, entering the heart of the Arabian Desert is truly the ultimate experience.
Information
Format: Hardback
Pages: 208 pages
Publisher: Abrams
Publication Date: 01/09/2009
Category: Photographs: collections
ISBN: 9780810983816
Also by George Steinmetz