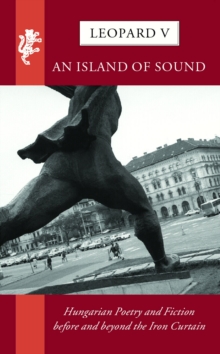 Leopard V : An Island of Sound
Paperback / softback
Description
Published to coincide with the Hungarian Year of Culture (2003-4), this new volume in Harvill's celebrated Leopard series of anthologies comprises a selection of Hungarian prose and poetry from the second half of the twentieth century.
Hungarian literature can be characterised as the literature of anxiety.
Throughout the 1900s, as Europe's political and social fortunes changed, Hungary's writers reflected on those changes, absorbing and distilling them in work of documentary, poetic or comically grotesque power.
This anthology of fiction and poetry begins by setting out some of the major landmarks from the end of the Second World War, then concentrates on the period before, during and after the key date of 1989, when Central Europe was transformed once again.
The volume traces that history of change from Marai's wartime diaries, into the Stalinist period with the one-minute novels of Istvan Orkeny, past the paradoxical post-modernist humanism of Peter Esterhazy, and through the haunted waste-tracts of Laszlo Krasznahorkai. On the way, it gathers together the monumental, the mystical, the garrulous and the inward-driven poetries of Janos Pilinszky, Sando Weores, Agnes Nemes Nagy, Gyorgy Petri, Otto Orban and Zsuzsa Rakovszky and many younger writers.
This extraordinary journey takes us up to Hungary's return to the European fold, as it moves from the psycho-geographic East towards the longed-for, lost, centre.
It celebrates the anxiety, agitation, crying and whispering of the Hungarian literary imagination, posing the question that hangs above the door of the European Community: What is Europe?
How do we live in it? And how do we respond to its darkness and its light?
Other Formats
Paperback / softback from £11.85
Free Home Delivery
on all orders
Pick up orders
from local bookshops