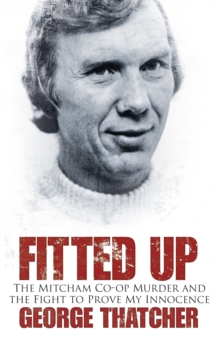 Fitted Up : The Mitcham Co-op Murder and the Fight to Prove My Innocence
Paperback / softback
Description
Fitted Up is the remarkable true story of George Thatcher, who spent four weeks in a death cell awaiting the noose for murder following the Mitcham Co-op robbery in 1962.
He was later reprieved, but would still serve eighteen years for a crime he did not commit.
This is a story of how corrupt policemen `fitted him up' for the crime; a story of a life of poverty in the 1930s and '40s as a child and young man - a life of petty crime in London's bleak 1950s underworld reminiscent of all those black and white gangster films of the period. Thatcher was a non-violent `peter' man, a safe-blower.
He once blew the safes of three Surrey cinemas in one night.
He was a West End `Jack the Lad', but not a murderer.
So when he was sentenced to death following the botched robbery, which he wasn't even a part of, his life was turned upside down. There is a detailed retelling of the farce of a trial.
Thatcher's barrister was the renowned Christmas Humphreys, who, during the whole trial, spent barely 15 minutes talking to him.
The policeman in charge of the case subsequently committed suicide - could this have been related to any guilt he might have felt over the imprisonment of an innocent man?George was sent to prison for life serving his sentence alongside men such as the Krays, Frankie Fraser and Ronnie Biggs.
A riveting tale of poverty, injustice, incompetence, skullduggery, survival and ultimately freedom. `An authentic account of how professional criminals were treated by police in the 1950s and `60s, even when they faced the death penalty.
The `verbal' confession was fabricated in the police canteen, the evidence rules were unfair to those with previous convictions, and the judges were hostile and the defence lawyers could not care less.
As for the jurors, they were members of a public that watched Dixon of Dock Green and thought it reflected reality.' Geoffrey Robertson QC
Information
Format: Paperback / softback
Pages: 224 pages, 8 Plates, black and white; 25 Illustrations, black and white
Publisher: The History Press Ltd
Publication Date: 01/09/2014
Category: True crime
ISBN: 9780750959650
Free Home Delivery
on all orders
Pick up orders
from local bookshops