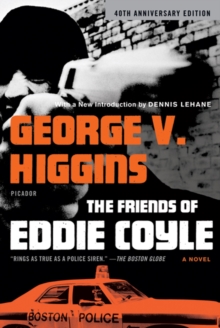 The Friends of Eddie Coyle
Paperback
Description
Eddie Coyle is a small-time punk with a big-time problem - who to sell out to avoid being sent up again.
Eddie works for Jimmy Scalisi, supplying him with guns for a couple of bank jobs.
But a cop named Foley is onto Eddie, and he's leaning on him to finger Scalisi, a gang leader with a lot to hide.
These and others make up the bunch of hoods, gunmen, thieves, and executioners who are wheeling, dealing, chasing, and stealing in the underworld of Eddie Coyle.
Information
Format: Paperback
Pages: 192 pages
Publisher: Picador USA
Publication Date: 27/04/2010
Category: Crime & mystery
ISBN: 9780312429690
Other Formats
Paperback from £6.85
EPUB from £3.99
Free Home Delivery
on all orders
Pick up orders
from local bookshops
Reviews
Showing 1 - 1 of 1 reviews.
Review by BayardUS
27/01/2016
The Friends of Eddie Coyle is probably about 80% dialogue, with Higgins never going in for detailed descriptions, scene setting, or complex sentence structure. On the positive side, Higgins' writing style makes this book fast flowing, but still manages to create scenes with lots of tension (the chapter concerning the VP of the First Agricultural and Commercial Bank and Trust Company is the standout example, and the highlight of the book). On the negative side, Higgins' lack of description means that he almost never sets up his scenes, instead throwing you in to a new chunk of dialogue at the start of each chapter with very little to give you your bearings. In the earlier chapters, before you get all the names down and the roles of everyone established, this lack of setup means you can be lost during each new chapter, at least for the first few pages, at which point you're half way through the chapter as likely as not. <br/><br/>The dialogue is good, and the characters are a bit different from each other based almost entirely on this dialogue alone (because again, very little in the way of descriptions). The plot is boilerplate for a crime novel, but not in a bad way, if you're looking for a crime novel you'll be getting exactly what you expect. There's no real attempt at depth here, besides the final couple of pages that touch upon the cyclical and futile aspects of the interaction between criminals and the justice system, and if you called any of that insightful you'd be using too strong a word. But why would you go into this book thinking to find something insightful? It's a crime novel, and a solid one at that; start it on a plane ride that's going to last three hours or more and you'll finish it with time to spare and probably be entertained along the way. The Friends of Eddie Coyle does not pretend or aspire to do or be anything more. I'm giving it a 3/5 because, again, it's a solid crime novel, and that's the score I give books of this sort. If you're a bigger fan of crime novels then this may well be a 4 or 5 star book for you; if you're a fan of crime novels you should check this one out. If crime novels aren't your thing, though, certainly don't go into this one expecting it to somehow transcend or surpass the rest of the genre.