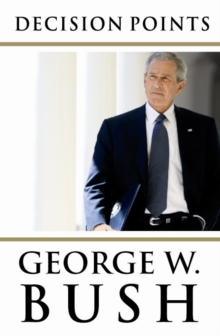 Description
"Decision Points" is the extraordinary memoir of America's 43rd president.
Shattering the conventions of political autobiography, George W.
Bush offers a strikingly candid journey through the defining decisions of his life.
In gripping, never-before-heard detail, President Bush brings readers inside the Texas Governor's Mansion on the night of the hotly contested 2000 election; aboard Air Force One on 9/11, in the hours after America's most devastating attack since Pearl Harbour; at the head of the table in the Situation Room in the moments before launching the war in Iraq; and, behind the Oval Office desk for his historic and controversial decisions on the financial crisis, Hurricane Katrina, Afghanistan, Iran, and other issues that have shaped the first decade of the 21st century.
President Bush writes honestly and directly about his flaws and mistakes, as well as his accomplishments reforming education, treating HIV/AIDS in Africa, and safeguarding the country amid chilling warnings of additional terrorist attacks.
He also offers intimate new details on his decision to quit drinking, discovery of faith, and relationship with his family. A groundbreaking new brand of memoir, "Decision Points" will captivate supporters, surprise critics, and change perspectives on one of the most consequential eras in American history - and the man at the centre of events.
Information
Format: Hardback
Pages: 512 pages
Publisher: Ebury Publishing
Publication Date: 01/11/2010
ISBN: 9780753539668
Other Formats
Paperback from £10.19
EPUB from £9.49
Free Home Delivery
on all orders
Pick up orders
from local bookshops
Reviews
Showing 1 - 1 of 1 reviews.
Review by the.ken.petersen
16/06/2015
I had two reasons for wanting to read this book; firstly, to better understand the decisions that saw a Western alliance fighting in the Middle East again, and secondly, because George Bush is portrayed as some sort of hick fool and, I did not believe that the United States would be daft enough to elect a fool.Having read Bill Clinton's autobiography immediately before this, there is no question that Bill wins, hands down, on the literary front but, what of the 43rd President?It is well known that the book was, if not ghost written, then heavily influenced by its editor. I wonder if the idea of starting with a personal battle was the editor's idea. Whoever came up with George's battle with the daemon alcohol, it was a bad one. The erstwhile president is not comfortable with going the whole hog and sounds po-faced as he decries his weakness. One little clue as to whether this was a fight against alcoholism comes when he declines a drink from a world leader. George is shocked at the idea of touching hard liquor before noon!Interestingly, my points of departure from Bush-thought did not occur at the points at which I had imagined that they would: Mr. Bush puts across a strong case for the use of 'waterboarding' and, if he is telling the truth when he says that it was only used upon three occasions, each sanctioned by the President, personally, it is hard to see what else could be done. Naturally, a known al Qaeda leader is not going to hand over information because of a polite request and, accepting thousands of deaths because we did 'the decent thing', seems stupid, not moralistic. Where Mr Bush is a little less forthcoming, is over the 'ordinary' prisoners in Guantanamo. Britain is in the process of handing out millions of pounds of compensation to mistreated individuals who are such a threat, that they are now back in this country leading ordinary lives. WHY?? Innocent Muslims were, unquestionably, not simply arrested but tortured. This IS unacceptable.When I was younger, we did not find out what our leaders had thought for thirty years. Now, the final counting of ballot papers has hardly been concluded before the self-justifying book hits the reading desk. History will, as Bush himself so rightly says, need time to form a firm opinion. Mine is that the man is certainly no fool, nor the religious bigot that some portrayed. He did some good things around the world but, I retain my belief that the President, and a lot of America, panicked when deaths occurred upon their own soil. There is all the difference in the world between sending brave lads abroad to die, and having death on one's doorstep.