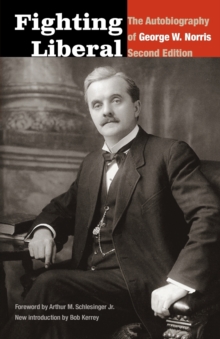 Fighting Liberal : The Autobiography of George W. Norris
Paperback / softback
Description
Though George Norris was born and grew up in Ohio, he headed west after earning his law degree and set up practice in Nebraska, eventually settling in McCook.
Elected to the House of Representatives in 1902 and the Senate in 1912, Norris was a Republican for most of his life but headed a wing called the Progressives, who believed the government should be more responsive to the needs of ordinary citizens.
Norris believed it his duty to vote according to conscience even if that sometimes conflicted with party affiliation or popular sentiment.
Beyond personal integrity, Norris also left a considerable legacy of achievements: he promoted the nonpartisan one-house Unicameral in Nebraska, led the effort to create the Tennessee Valley Authority, and sponsored the Rural Electrification Act.
Fighting Liberal is Norris's account of his amazing and admirable life from the early impoverished years that informed his populist philosophy to his career in government, where he made great contributions to the nation.
Information
Format: Paperback / softback
Pages: 480 pages, 12 illustrations
Publisher: University of Nebraska Press
Publication Date: 25/10/2009
ISBN: 9780803226760