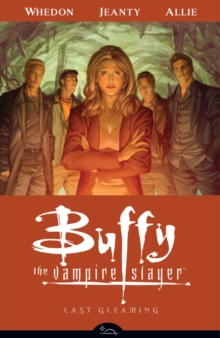 Buffy the Vampire Slayer : Last Gleaming Season 8, volume 8
Paperback
Information
Format: Paperback
Pages: 160 pages, chiefly col. Illustrations
Publisher: Dark Horse Comics,U.S.
Publication Date: 31/05/2011
Category: Horror & ghost stories
ISBN: 9781595826107
Free Home Delivery
on all orders
Pick up orders
from local bookshops
Reviews
Showing 1 - 5 of 15 reviews.
Previous | Next
Review by DanieXJ
16/06/2015
Okay. This one took me a second to get into since they started back in the Season a bit so we could catch up with Angel and Spike.Then we're back to superpowered heroes and an army of slayers. Not to mention some seriously messed up not from our world monsters.From there we get reaquainted with some characters and some big changes take palce.It was a solid 'Season 8 Finale', some wrap up, some cliffhanger. I enjoyed it.Honestly I think my only problem with Buffy The Vampire Slayer Season 8 was a general one. Just as I watched Season 7 with the hope, I've read every volume of season eight with the same hope that we'd really (and not just a drive by) get to see Tara. *sigh* Alas, still. A very good continuation of the TV season 7.
Review by fyrefly98
16/06/2015
Summary: The creation of a new universe at the end of Vol. 7 opened up the floodgates of demons pouring into the old universe. It turns out that all of the demons are primarily after one thing (apart from killing, mauling, and eating as many humans as they can): the Seed, which is responsible for the separation of the universes and is also the source of magic in the world. So Buffy & Co. have to get to the Seed first... but once they find it, what exactly are they going to do with it?Review: Whoo boy. In my review of the utterly insane and mostly nonsensical Vol. 7, I said "I would really appreciate it if Joss (or someone else) would take the reins and keep the whole thing from plummeting straight over the crazy cliff." And, surprisingly enough, he did! Well, mostly. The direction that the plot took at the end of Vol. 7 isn't something that even the most skilled writer could turn around in the space of one more volume, but given what there was to work with, I think Whedon took it in the best direction he could. He did cover a LOT of plot points very, very quickly, however, to the point that I was spending a lot of mental energy trying to make it all fit together in a logical fashion. I never quite got there, even after a few read-throughs, but at least the remaining plot holes are Sunnydale-crater-sized rather than entire-universe-sized. I also think I missed a lot by not reading the Spike or the more recent Angel comics, too; the fact that Spike shows up on a giant gold zeppelin piloted by huge cockroaches is just laid out there in this volume without any kind of explanation.But, despite the "Whaaaaaa??!? Ooookay." nature of the plot, there were a number of parts of this book that I liked. There are some simply wonderful character moments, with Buffy & Spike's reunion (complete with the entire unresolved weight of what went down at the end of S7) at the top of the list. Everybody sounded like themselves, and a lot of the dialogue is just as sharp and witty as it ever was on the show. And, of course, Whedon can't end a season without some major game-changing twists, and season 8's finale's got a few doozies. Unfortunately, I was too wrapped up in trying to understand the plot, so I think some of them didn't have quite the emotional impact they should have, but they (for sure) left me eager to see where things are going to go from here. 3.5 out of 5 stars.
Review by usagijihen
16/06/2015
This is my review of volumes 5-8, since it just seemed like a better idea to review the rest all in one shot.So I hear that there's been a season 9 approved now (for comics)? Someone correct me on that if I'm wrong, but either way, I am very excited. Volumes 7 and 8 were the best of the entire season, hands down. But volume 6 is what really got the ball rolling again (I could have done without the whole Harmony sub-arc, but as it added to the story, meh, I'll take what I can get). The idea that everyone hated the Slayers even though they were saving butts right and left was a delicious one, a very Whedonian one, and very well executed. But the Big Reveal on this season's big bad definitely took me by surprise, though in retrospect, it probably shouldn't have. I should know Whedonian plots when I see them.Hm. The idea of not just Buffy, but Angel being the vessels to the will of the universe/destiny/whatever and change was really great. I think I liked that part the most. They were always my favorite pairing for the show, mostly because they played so well off of each other. And in the comic, that continues, even if the change to Angel's character hasn't progressed too much from what we last saw in both TV series. He's still conflicted, angsty, resolving to be good, but accidentally screwing it up – except this time, it's a world-destroying universe-ending screw up. Faith willing to work with him at the end of the season makes full use of her name and how she's become a little more humble under Giles' tutelage over the years when Buffy is too upset to really do anything. Faith's role in all of this isn't as large as Buffy's, but when it comes down to the end of the season, it's just as important, if not more (as it's setting up for season 9).And can I just say how much I love Spike and the Bugs? I love Spike and the Bugs SO much. That was the best part of the first half of the last volume. And the steampunk ship. That was glorious.It's hard to write a review for the end of this season without spoilers, so this review is going to be short. All I can tell you to do is to read the whole season, even if it only got really good around volume 6 onward. I can't do it justice with a halfassed review with no spoilers. Yes, it really was that good.To wrap it up, I'll just say that I'm definitely looking forward to season 9, and the Faith spinoff (that and more of the Angel spinoff, which I have to catch up on anyway). The end was definitely twisted and a bit of a shock, but considering what happened with Twilight in play, it's not that entirely surprising. I can't wait to see where the story goes next.(posted to goodreads, librarything, shelfari, and witchoftheatregoing.wordpress.com
Review by bragan
16/06/2015
This is the final volume in the first season of <I>Buffy the Vampire Slayer</I>'s graphic novel afterlife. I was pretty into this series up until the previous installment, which shattered my suspension of disbelief into a surprising number of pieces and left me laughing at things that were clearly meant to be dramatic and/or romantic. This volume, alas, really doesn't manage to recover from that, which is a pity, as it meant things that should have had a certain amount of impact on me didn't. Still, there is some fun dialog, which is always one of the great joys of <I>Buffy</I>, and they've left things set up to go in hopefully rather less over-the-top directions in "season 9."
Review by catalogthis
16/06/2015
Another difficult rating to assign. Two stars for too much convoluted exposition... three stars for bringing back my favorite character from the series and making him sound <i>exactly like</i> himself ("That wasn't our fault!" "Nobody said it was except me right now to your face!")... and eleven stars for page 35. Which I will leave cryptic, lest I divulge spoilers. So, four stars overall. I'm reluctant to get to specific in this review, because some of the surprises (in this volume and in the whole season) were excellent, and I'd hate to ruin that for anyone. So generally speaking, the big story arc was a bit clunky and unbalanced, while the character development was brilliant. My disappointments with Buffy Season 8 were pretty much exactly what Joss himself described in his little "letter to the readers" at the end of this volume. Which means that either (a) Joss and I are mental twins, or (b) I've watched way too many of his interviews &amp; commentaries. Probably (b).Bring on Season 9!