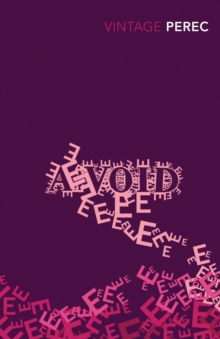 Description
Anton Vowl is missing. Ransacking his Paris flat, a group of his faithful companions trawl through his diary for any hint as to his location and, insidiously, a ghost, from Vowl's past starts to cast its malignant shadow.
This virtuoso story, chock-full of plots and subplots, shows the skill of both author and translator who impart all the action without a crucial grammatical prop: the letter 'e'.
Information
Format: Paperback
Pages: 304 pages
Publisher: Vintage Publishing
Publication Date: 01/01/2008
Category: Horror & ghost stories
ISBN: 9780099512165
Free Home Delivery
on all orders
Pick up orders
from local bookshops
Reviews
Showing 1 - 2 of 2 reviews.
Review by xuebi
16/06/2015
The most remarkable thing about this story is that both in its original and in translation, the only letter "e" used is in the author's name: this is a testimony to the expert translation and to the quality of Perec's writing. Though at times a little heavy-going, A Void is a worthwhile detective story written using one of the hardest constraints in writing. A true ode to lipograms.
Review by BayardUS
16/06/2015
Very technically impressive, even more so for the translator Gilbert Adair than for George Perec himself. Adair surely earned his Scott Moncrieff Translation Prize by translating a book from French to English, maintaining the lack of the letter "e." It's Adair that gets this book a second star, not Perec.<br/><br/>The problem is that being technically impressive doesn't do anything for me unless it's matched with an interesting piece of writing- if someone writes an entire grocery store romance novel on a single grain of rice, that would be even more impressive than the feat Perec pulls off here, but the book itself would still be garbage. There is barely any story here, and what there is unfolds in a stilted manner. The restraint that Perec put on himself means that most sentences are awkward, and the book often falls back on just listing things in a given category that lack the letter "e." There are few characters, little descriptive imagery that's any good, and frankly the whole book was one big slog for me.<br/><br/>It seems to me that a gimmick that detracts from the story and writing is a gimmick that should be discarded. Instead Perec stuck with his gimmick. If he wanted to prove to himself that he could do it that's fine, it's when he had it published so that other people would read it that I started to have a problem. This is a technically impressive terrible book, and you should read something else instead.