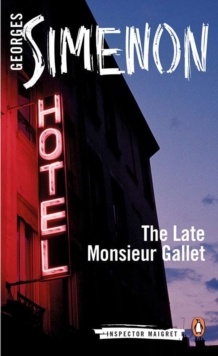 The Late Monsieur Gallet : Inspector Maigret #2
Paperback
Description
The second book in the new Penguin Maigret series: Georges Simenon's devastating tale of misfortune, betrayal and the weakness of family ties, in a new translation by Anthea Bell.Instead of the detail filling itself in and becoming clearer, it seemed to escape him.
The face of the man in the ill-fitting coat just misted up so that it hardly looked human.
In theory this mental portrait was good enough, but now it was replaced by fleeting images which should have added up to one and the same man but which refused to get themselves into focus.The circumstances of Monsieur Gallet's death all seem fake: the name the deceased was travelling under and his presumed profession, and more worryingly, his family's grief.
Their haughtiness seems to hide ambiguous feelings about the hapless man.
In this haunting story, Maigret discovers the appalling truth and the real crime hidden behind the surface of lies.Penguin is publishing the entire series of Maigret novels in new translations.
This novel has been published in previous translations as Maigret Stonewalled and The Death of Monsieur Gallet.'Compelling, remorseless, brilliant' John Gray'One of the greatest writers of the twentieth century . . . Simenon was unequalled at making us look inside, though the ability was masked by his brilliance at absorbing us obsessively in his stories' Guardian 'A supreme writer . . . unforgettable vividness' Independent
Information
Format: Paperback
Pages: 176 pages
Publisher: Penguin Books Ltd
Publication Date: 05/12/2013
Category: Classic crime
ISBN: 9780141393377
Free Home Delivery
on all orders
Pick up orders
from local bookshops
Reviews
Showing 1 - 2 of 2 reviews.
Review by Eyejaybee
16/06/2015
Published in 1931, this was the third novel to feature Chief Inspector , and it is clear that Georges Simenon was still learning his art. The story lacks the faultless polish of his later works, though traces of acute observation skills are already present.The book opens in the sweltering heat of August (which makes a change from the almost incessant rain that pervaded the first two novels in the series), with Maigret receiving the news of the death of a man in Sancerre. It transpires that the dead man he is Emile Gallet, and further investigation shows that he has been leading a double life for several years. His widow had believed that he was in Rouen, engaged in selling silverware for his employer. However, through the judicious questioning of the locals at Sancerre and the despatch of a few telegrams, Maigret establishes that Gallet had ceased to work for the company nearly twenty years earlier, and had been visiting Sancerre rther than Rouen regularly for more than a decade.Guided partially by his own intuition, Maigret delves more deeply into the mysterious circumstances and unravels a devious plot. However, there is very little attempt to scratch beneath the surface of most of the characters (including Maigret himself), and the narrative felt oddly flat.On reflection I am glad that I read this book, though I also recognise that if this had been the first Maigret novel that I had encountered, I would never have considered reading any more of them.
Review by smik
16/06/2015
This is part of the Penguin Classics, a project to reprint the novels of Simenon in order of publication. THE LATE MONSIEUR GALLET is #2 in the series and I was surprised to find that Maigret is already 45 years old. He has spent half his life in various branches of the police and is now in the Paris Flying Squad.Monsieur Gallet it seems has been leading a double life for the best part of twenty years, living under two names, with a wife and son under the name of Gallet. However he no longer has the job that Madame Gallet thinks he has, so how does he earn his money? In addition it seems that his death is somehow related to the hotel room he has been allocated.If Monsieur Gallet has been murdered, then who committed the deed? There are plenty of suspects but none quite fits the bill. Gallet it seems may have been a crook.The plot is convoluted as one expects of Simenon, and Maigret spends quite an amount of time away from home on this case. He would prefer what he considers a "real murder", where motives and details are clearer.I found the plot a little tangled and disappointing. I don't think Simenon needed to make it quite as complex as he did, although he made it so to accommodate a range of characters like Gallet's reprehensible son and his girlfriend.
Also in the Inspector Maigret series | View all