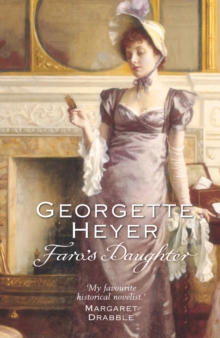 Faro's Daughter
Paperback
Description
A renowned gamester, and the first to own that he is untroubled by a romantic disposition, Max Ravenscar regards all eligible females with indifference.
But when he learns that his young cousin Adrian is bent on marrying Deborah Grantham, beautiful mistress of her aunt's gaming house, he meets an opponent in whom all his experience of risk and gambles finds him unprepared. Full of typically rogueish heroes and beautiful heroines, Faro's Daughter shows all the qualities that made the greatest romantic novelist of her age, and won her a huge audience that continues to this day.
Information
Format: Paperback
Pages: 272 pages
Publisher: Cornerstone
Publication Date: 03/06/2004
Category: Historical fiction
ISBN: 9780099465591
Free Home Delivery
on all orders
Pick up orders
from local bookshops
Reviews
Showing 1 - 5 of 8 reviews.
Previous | Next
Review by wyvernfriend
16/06/2015
Max Ravenscar is a gamester and claims that he is uninterested in romance. Deborah Grantham is planning to marry his young cousin Adrian and when they meet sparks fly. Fun read from Heyer.
Review by Anniik
16/06/2015
This is not a bad book. Indeed, the writing is charming, the characters are well developed and interesting, and the plot is fun and enjoyable. The problem with this book is the same problem I had with <i>The Corinthian</i> - you don't get any idea that the two central characters have any feelings for each other until the very end. They honestly seem to hate each other until suddenly they're declaring their undying love (or he is, anyway). It just seemed to come out of nowhere. Other than that, this is a cute enough book.
Review by AdonisGuilfoyle
16/06/2015
I really, really want to like Georgette Heyer - mainly because it's written in stone somewhere that everyone must - but her heroines are incredibly irritating! 'Deb' is the dictionary definition of that non-adjective 'feisty' (because a strong woman is so rare that labels are required): a bitter and matronly spinster, patronising men and women alike, who is prone to inexplicable fits of mad, St Trinian's-style scheming just to prove a point. I'm not even sure why she was so incensed with the hero to begin with - from all outward appearances, he had her pegged pretty accurately, and only when Heyer started protesting Deb's innocence (yes, she does work in her aunt's gaming house, but there are Extenuating Circumstances and she is really Not That Kind of Girl) did I lose all interest in the tedious woman. When we meet Deb, she is stringing along two men, one very old and one very young, with not the least intention of giving in to either - and yet when she is called on this, she erupts and starts a chain of ridiculous events. The hero, Ravenscar, was suitably dashing and intriguing - until he fell for the infantile antics of the frustrated spinster (I wouldn't call her 'remarkable' - more 'deranged'). All good, light fun, like Carry On movies, but then, I don't like them, either. And the overuse of 'ma'am' as a term of address - not even the more correct 'madam' - is highly irksome; surely a writer of Miss Heyer's calibre, as demonstrated by her otherwise impeccable historical research, could have thought up a few alternative titles?
Review by riverwillow
16/06/2015
An entertaining and fun read. Although not one of Heyer's greatest novels, the plot is very predictable, the joy is in the dialogue. I particularly loved the exchanges between Max and Deb, especially the ones in the cellar which Heyer manages to contrive to be simultaneously very silly (the use of the cellar as a plot device feels quite lazy) and important as they really begin to get the measure of each other. The minor characters are joy, I particularly loved Max's relationship with his half-sister, and Deb's subtle manipulation of Adrian - the moment she 'discovers' him with Miss Laxton is priceless. A wonderful comfort read.
Review by lovelylime
16/06/2015
I suppose its fitting that what I've deemed "the year of Georgette Heyer" ends with a Heyer, and what a fantastic one to end on! Nothing gets me more than a good Heyer hero.