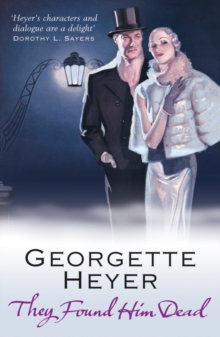 They Found Him Dead
Paperback
Description
The sixtieth birthday party of Silas Kane was marred by argument and dissension amongst his family. And then, the morning after the celebrations, Kane is found dead at the foot of a cliff.
The theory that Silas accidentally lost his way in the fog is confirmed when the coroner returns a verdict of death by misadventure. But then Kane's nephew and heir is murdered and threats are made on the next in line to the fortune, throwing a new and sinister light on Silas Kane's death.
All clues point to an elderly lady of eighty as the killer.
But as the redoubtable Superintendent Hannasyde delves further into the case he discovers that nothing is quite as it seems...
Information
Format: Paperback
Pages: 320 pages
Publisher: Cornerstone
Publication Date: 06/04/2006
ISBN: 9780099493631
Free Home Delivery
on all orders
Pick up orders
from local bookshops
Reviews
Showing 1 - 3 of 3 reviews.
Review by riverwillow
16/06/2015
I love Heyer's Regency novels, but had been warned that her crime novels were just OK and quite dull in comparison. I love crime fiction, especially period crime fiction and I'm glad I ignored the advice as this is a perfectly well-executed murder mystery with a satisfying resolution and lots of twists and turns and red-herrings along the way. Perfect Sunday evening reading.
Review by JulesJones
16/06/2015
Third of the Superintendent Hannasyde mysteries. Silas Kane is the senior male member of the Kane family, childless owner of the Kane family fortune. When he's found dead at the foot of a cliff one morning' his family are distressed, but most of them suspect nothing more than the obvious -- he insisted on having his usual evening walk along the clifftop path in spite of it being a foggy night, and must have missed his way. But when his heir is found shot dead not long after moving into the family residence, Silas's death takes on a more sinister aspect. And it's not as if there's a shortage of motives. A nice obvious one is that the other partners in Silas's business wanted to go into a risky but potentially profitable deal, one that could only go ahead with a capital injection from Silas, which Silas wasn't willing to give. And of course, Silas's nephew and heir Clement needed the money he inherited, and Clement in turn has the next oldest cousin as his heir. Then there's pure personal animosity as a motive for an eighty-year-old lady, of all people, to have committed one of the murders.Hannaysde's problem is that there are several good candidates for each murder, but anyone with good motive and means for one is a poor candidate for the other. If, of course, the death of Silas really was a murder and not just an unfortunate coincidence of an accident. And that's before it becomes clear that someone is now targeting Clement's heir.I spotted the murderer fairly early on, when the second murder took place, although I didn't work out how he'd done it. It took me a little longer to make the connection on what his true motive was. This is no criticism of the book, because Heyer kept me guessing almost to the end as to whether I was right. That's just as much fun as not spotting the clues until near the end. And there's plenty of entertainment along the way, with ample red herrings, a cast of characters large enough to provide plenty of character interaction without being too large to keep track of, and some sparkling dialogue. Hannasyde is a recurring character, and there are references to earlier cases, but he's actually something of a cypher in comparison with the one-off characters he encounters. There's no real development of him as a character from book to book. Instead, what shines here are the character studies of the people caught in the backwash of murder. They're often stereotypes or exaggerations, but still are nicely drawn caricatures of certain personality types, and the way they react to stress.Great fun, and I'm looking forward to the next one.
Review by kathleen586
16/06/2015
Good mystery, but it seemed really slow-moving for some reason.