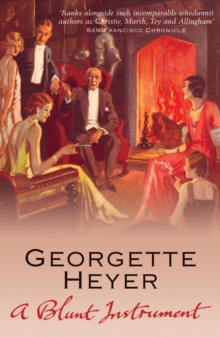 A Blunt Instrument
Paperback
Description
When Ernest Fletcher is found bludgeoned to death in his study, everyone is shocked and mystified: Ernest was well-liked and respected, so who would have a motive for killing him?
Enter Superintendent Hannasyde who, with consummate skill, begins to uncover the complexities of Fletcher's life.
It seems the real Fletcher was far from the gentleman he pretended to be.
There is, in fact, no shortage of people who wanted him dead.
Then, a second murder is committed, with striking similarities to the first, giving a grotesque twist to a very unusual case.
Information
Format: Paperback
Pages: 304 pages
Publisher: Cornerstone
Publication Date: 06/04/2006
Category: Crime & mystery
ISBN: 9780099493655
Free Home Delivery
on all orders
Pick up orders
from local bookshops
Reviews
Showing 1 - 4 of 4 reviews.
Review by riverwillow
16/06/2015
I may have read too much Agatha Christie as I discovered the identity of the murderer very early on in the book, but it did take until the end to discover the why. Strangely for a murder mystery this didn't matter because there are some absolutely hilarious encounters in this book, particularly in the scenes involving Constable Glass and Neville Fletcher, which makes this a quick fun read.
Review by JulesJones
16/06/2015
The fourth Superintendent Hannasyde book. Earnest Fletcher is found dead in his study, with a large dent in his head from a blunt instrument. On the surface he's a well-liked and respected man, but it soon becomes apparent that his nephew and heir is not the only one with a possible motive for killing him. Unfortunately for Hannasyde, some of the people with motives are also his best witnesses, and some of them also have good reason to try to protect some of the other people with motives. He has a number of precise statements of the time of various events in the half hour leading up to the murder, most of which are not compatible and some of which are almost certainly true. It's only after a second murder that he begins to suspect the truth...I actually spotted the murderer straight off, which bothered me not at all, as part of the fun was trying to work out whether I was right. The story itself is great fun, with Heyer's usual collection of sharply drawn characters, and her usual odd couple romance in the background.
Review by KimMR
16/06/2015
It may be that I gave this 4 stars because I am such a Heyer fan. After all, the mystery wasn't that engaging and I guessed the culprit very early in the piece. But Neville's wicked tongue made up for other weaknesses. A fun read.
Review by JeffreyMarks
16/06/2015
A great humorous mystery with a closed cast -- will keep you guessing up to the last minute. Wonderful author.