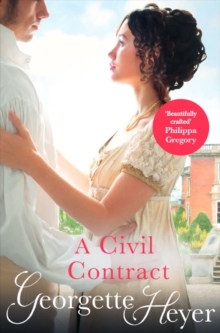 A Civil Contract
Paperback
Description
Adam Deveril, the new Viscount Lynton and a hero at Salamanca, returns from the Peninsula War to find his family on the brink of ruin and the broad acres of his ancestral home mortgaged to the hilt.
It is Lord Oversley, father of Adam's first love, who tactfully introduces him to Mr Jonathan Chaleigh, a City man of apparently unlimited wealth with no social ambitions for himself, but with his eyes firmly fixed on a suitable match for his one and only daughter. For more than fifty years Georgette Heyer brought romance and adventure to a wordwide readership and Civil Contarct shows how she continues to be loved today.
Information
Format: Paperback
Pages: 384 pages
Publisher: Cornerstone
Publication Date: 02/06/2005
Category: Historical fiction
ISBN: 9780099474449
Free Home Delivery
on all orders
Pick up orders
from local bookshops
Reviews
Showing 1 - 5 of 6 reviews.
Previous | Next
Review by kloafman
16/06/2015
Have re-read this one more than any other of her works.
Review by MusicMom41
16/06/2015
This is almost an "anti-romance" novel. Viscount Lynton (Adam) comes home from the Napoleonic Wars when his father dies in a hunting accident only to find that his father has ruined the estate and he faces having to sell the family home. He also must give up the girl of his dreams to whom he is betrothed. The girl's father puts Adam in the way of marrying an heiress, the daughter of an extremely shrewd and wealthy, if somewhat uncouth Cit in order to save the home. The daughter has been raised to have good manners, but she is no beauty and certainly not romantic. She reminds one of Drusilla in The Quiet Gentleman, but without the genteel background. The story was entertaining, especially for readers who like to root for the more sensible girls over the lovely but impractically romantic beauties who usually win the hero. I think this book may be distantly related to These Old Shades & Devil's Cub which are related to her classic book, Infamous Army, the book about the Napoleonic wars. There is quite a bit of information about the battle at Waterloo in this book.
Review by Oregonreader
16/06/2015
Georgette Heyer is generally considered to have invented the Regency Romance genre. But her novels are much closer to Jane Austen than the bodice rippers that we typically think of. In this book, one of her best, she looks at the phenomenon of landed but cash poor nobility marrying wealthy daughters of tradesman. In this case, a young man returns from the Peninsular Wars upon his father's death, to discover the estate is bankrupt. Faced with losing the family home and being unable to take care of his sisters, he is talked into marrying a young daughter of an immensely wealthy man who is anxious to improve her social standing. Heyer looks at the culture clashes and how this mixing of the two worlds unfolds. The characters are very well-drawn and complex. A fascinating story.
Review by riverwillow
16/06/2015
This is the antithesis of most of Heyer's other Georgian novels as the book starts with the marriage. Adam Devril has met the love of his life, Julia Oversley, but it's not a suitable match because Adam's father has gambled away so much of his family fortune so Adam needs a rich wife. So he's introduced to Jenny Chawleigh, daughter of a wealthy city man whose looking to marry her to a man of status. The book charts the first few months of their marriage and how their arranged marriage settles into something that will endure.
Review by Krumbs
16/06/2015
It took a little while for me to get past the language and get into the story, but once I got used to it I really enjoyed the author's style. She began writing on the 1920s but the book holds up very well. Much richer than a modern romance novel, but at it's heart that's what this was. Perhaps better--there was no magical happy ending or grand passion. It was a standard romance plot without all the modern contrivances. The eyes did not speak! Although vintage, it was a breath of fresh air.