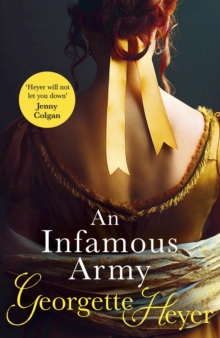 An Infamous Army
Paperback
Description
The Battle of Waterloo. A heart-racing tale of adventure, love and fate against the backdrop of one of the most decisive battles in history by one of the greatest and best-selling romantic novelists of all time. In 1815, beneath the aegis of the Army of Occupation, Brussels is the gayest town in Europe. And the widow Lady Barbara Childe, renowned for being as outrageous as she is beautiful, is at the centre of all that is fashionable and light-hearted.
When she meets Charles Audley, dashing aide-de-camp to the great Duke of Wellington himself, her joie de vivre knows no bounds - until the eve of the fateful Battle of Waterloo ... Georgette Heyer was the creator - greatest practitioner - of the Regency romance, and An Infamous Army shows why she has won the hearts of a whole new audience with her sweeping historical fiction.
Information
Format: Paperback
Pages: 448 pages
Publisher: Cornerstone
Publication Date: 01/01/2004
ISBN: 9780099465768
Free Home Delivery
on all orders
Pick up orders
from local bookshops
Reviews
Showing 1 - 4 of 4 reviews.
Review by wyvernfriend
16/06/2015
Georgette Heyer is well known for her romances and technically this is a romance as it does contain some romances. A married couple settling differences, a secret marriage and a couple coming together after adversity. But that's only the surface of the novel.The story starts in Brussels, there's a vague threat of Napoleon on the horizon but it's vague. Life for the officers and their wives is as it would be in any large town in England, only with a greater variety of accents and new people. Gossip and fashion are strong themes and one of the greatest target of gossip is Bab Childe. A widow of some means she seems determined to scandalise and shock. Many of the men are Officers in the Army, unsure if they will be called upon to fight against Napoleon.And they are. Suddenly Napoleon is on their doorstep and something has to be done. The story written here of the battle is apparently very well researched and was used in some training schools as the description of the battle. Heyer shows her research and tale telling skills here. We lose some characters we have come to know and see some injured, there are no certainties throughout this story as to who will live and who will die, just as life.The last third of the book details the aftermath of the battle and the changes that happen to people because of their close encounter with death. It wraps the relationships up nicely but leaves you questioning if some of the relationships will last past the adrenaline.Altogether it's an interesting story, well told and a good book for those who dismiss Georgette Heyer as a mere purveyor of romances.
Review by AdonisGuilfoyle
16/06/2015
Another unbalanced Heyeroine, in the midst of a drawn-out recounting of the Waterloo campaign; grounding Georgette Heyer's Regency romances in battleplans and a biography of Wellington doesn't quite work.Her dedication to historical accuracy is to be admired, but the descriptions of regiments, manoeuvres and pretty uniforms (from lace trimmings to tasselled boots) take up far too much room, and the excess of detail adds little to the story. A blow-by-blow battle plan of Ligny, Quatre Bras and Waterloo might fascinate cadets at Sandhurst and West Point, but most readers who pick up a Heyer novel are more interested in the characters and the romance. Speaking of which. Lady Barbara 'Bab' Childe - whose frumpy name, along with those of Judith and Julian, is more proto-Sloane Ranger than Regency moniker - is a typical Heyeroine. She is described, and describes herself, as 'wild' and 'boyish' - 'It's like talking with a man, only more exciting!' - but is actually only spoiled, spiteful, selfish and obnoxious. She behaves like a child(e), saying and doing hurtful things to gain attention, with the claim that it's in her 'curst nature' to do just as she pleases and get what she wants. The only trouble is that the reader is expected to excuse her behaviour and fall for her 'charms' just as the other characters do, Heyer once again lowering women to the standard of men in a cockeyed, 1930s interpretation of gender equality. As a Heyeroine, 'Bab' is at once scandalous and safe - her reputation is founded on nothing but flirtations and rumours, while she waits for the 'right man' to whom she can finally give her heart. Although it's fairly obvious why Charles Audley falls for Bab - she's beautiful - the mystery is why she suddenly decides that he is the one for her. It's love at first sight between them, across a crowded ballroom (literally), but the only quality to distinguish the Colonel is that he is the Heyeroe. He doesn't even Resist Her Charms, thus making *him* a challenge for her - wholly unbelievable.The only refreshing change - for Heyer, at least - is that Bab is not 'tamed' outright by Charles. Mentally unstable as she is (swapping laudanum for a husband), Bab sabotages her own engagement, which is the only exciting spot in the story. Only when Charles is physically incapacitated does Bab feel she can safely sacrifice a little of her proud independence to marry him, a la Jane Eyre - as she corrects him, 'You have come back to me, Charles'. The dialogue also contributes little to the period atmosphere, historically accurate though it most probably is. The men are either 'stiff' or 'excellent', favourite exclamations include 'capital!' and 'infamous!', and Heyer's 'gurgling laughter' and 'twinkling eyes' make an unattractive return. Though far from anachronisms, these phrases put me more in mind of 1930s radio plays rather than Regency romances. There are some sharp retorts from Bab, and thoughtful insights from the sober Judith, but most of the conversations consist of inane exclamations ('Pooh! Nonsense!')In the author's note, Heyer recognises that her Waterloo epic is similar in content to Thackeray's 'Vanity Fair', but insists that readers should not compare the two - an honest admission of defeat to be commended. Thackeray's 'novel without a hero' is based in history, whereas Heyer was attempting to cram history into a romance novel. Informative but dull, an unfortunate hybrid of fact and fluff.
Review by poonamsharma
16/06/2015
Interestingly, I found my second Georgette Heyer to be sequel of first one I have ever read, Regency Buck. Needless to say Judith is now married to Earl of Worth, this is now story of her brother-in-law Colonel Charles Audley (honestly, have not figured out yet why two brothers have different last name, surely a detail I missed in first book). Colonel Audley falls in love with a beautiful widow called Lady Barbara Childe, who in English society is something of a scandalous character. She flirts and manipulates men at her whims and takes pleasure to flaunt all 'laws' that Regency period dictates for women.<br/><br/>However, book is not about love rather it is the setting that is most important. It is set in the backdrop of Battle of Waterloo and Duke of Wellington is very much an important character of the book. Duke's thoughts, strategies, quotes and lastly his balls even the one just before war begins has been covered in detail. Needless to say, famous Heyer research is apparent. Battlefield updates and strategies have also been detailed with meticulous care. More than a love story this should be treated as historical fiction of the period.
Review by PhilSyphe
16/06/2015
This felt like reading two genres in one book. First, there's the humorous romanticism that Ms Heyer is so famous for – and so good at – and second there's a full-scale military campaign, creating a completely different tone.It's not that the military side is badly written, as the author has done thorough research and her writing skills are top notch, but for me the swapping and changing from the "classic Heyer" style to the "What's happening with Napoleon?" in the first half of the book doesn't gel. Further on, the witty romantic feel virtually disappears to be fully replaced by the Battle of Waterloo and its bitter aftermath.As mentioned, Ms Heyer's writing is good, but to me this mix 'n' match genre doesn't work. I feel she would've been better off writing two shorter books, with one focusing on a Waterloo and its build-up, and another set in Brussels at the time but with the more serious events going on left as a backdrop, rather than a feature that keeps coming to the fore.Another thing that stopped this book appealing to me as much as others that I've read by this author was the amount of characters involved. It took me till Chapter 4 before I started to visualise the main protagonists. The opening chapter introduces far too many characters at one go, ultimately confusing the reader – well, this one at least. On the plus side, there is some great dialogue throughout the book, as one would expect from Georgette Heyer. The exchanges between Charles and Barbara were especially entertaining.