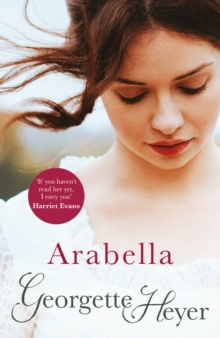 Description
An enchanting debutante and the eldest daughter of an impoverished country parson, Arabella embarks on her first London season.
Armed with beauty, virtue and a benevolent godmother (as well as a notoriously impetuous temper) she quickly runs afoul of Robert Beaumaris, the most eligible Nonpareil of the day.
When he accuses her of being yet another pretty female after his wealth, Arabella allows herself to be provoked - into a deceitful charade that might have quite unexpected consequences...Arabelle is a tale of Regency romance from the creator - and still the best writer - of this beloved genre.
Information
Format: Paperback
Pages: 288 pages
Publisher: Cornerstone
Publication Date: 07/10/2004
Category: Historical fiction
ISBN: 9780099465621
Other Formats
CD-Audio from £25.59
EPUB from £3.99
Free Home Delivery
on all orders
Pick up orders
from local bookshops
Reviews
Showing 1 - 5 of 9 reviews.
Previous | Next
Review by Anniik
16/06/2015
This is a charming book. While a bit slow in the beginning, once it gets going, it introduces utterly fascinating characters and a lively and engaging plot. Arabella is a wonderful heroine - very much a lady, but not so held down by the dictates of society that she is afraid to stand up to society's dictates. Robert is a fantastic character as well - some of my favorite scenes in the book were the ones with him and Ulysses. I really enjoyed this book!
Review by runaway84
16/06/2015
This is by far the most cleverest plot that Georgette Heyer has created. Granted, I wouldn't call myself someone who has read a great part of her novels yet, but I'm getting there.Arabella is headed to London to stay with her godmother who is going to introduce her into society. On the way there, her carriage breaks down and while waiting for help to arrive (where's a gas station when you need one?) she takes shelter in a nearby home that belongs to none other than the infamous Nonpareil Robert Beaumaris.Beaumaris wasn't born yesterday. He has been bamboozled into meetings with marriage-seeking ladies who conveniently get into 'accidents' just to meet him for years. Mortified, Arabella - a daughter of a Vicar - concocts a clever story that she is a wealthy heiress. Figuring this is false, Beaumaris decided to play along due to boredom. But boredom eventually leads to something more.A lie such as that can only bring about shenanigans from there. Once word gets out that a heiress is town, every fortune seeking bachelor is vying for her affections.Arabella is witty story that brings with it a lot of laughs. A sweet, strong heroine and a devilishly clever hero and a strong plot makes this a definite Heyer must read.
Review by riverwillow
16/06/2015
Arabella is delightful heroine, whose temper and impetuosity lead her to try and put the wealthy Robert Beaumaris in his place by masquerading as a rich heiress. But Mr Beaumaris spots the deception and, amused, plays along and soon all of London is playing court the wealthy Miss Tallant. Along the way Arabella manages to convince Mr Beaumaris to shelter Jemmy, a young chimney sweep, and adopt an adoring mongrel, Ulysses, who manages to charm even Alfonse, Mr Beaumaris's temperamental chef. Another sparkling Regency romp from Heyer.
Review by LyzzyBee
16/06/2015
(25 February 2012 – Bookcrossing)One of the best and most rich Heyers. Impoverished Arabella is sent off to her godmother's in London to hunt for a husband. On the way she meets Robert Beaumaris, the Nonpareil, who has the power to make or break someone's launch into society. Jousting with him verbally, an unfortunate untruth escapes her, which is spread by the usual faithful sidekick; she then has a bewilderingly good reception in the capital. But personality will out, and Beaumaris is charmed by Arabella's kindness to people and animals and … well, you know everything will come out for the best, but we have a lovely time getting there. Lots of great cant and argot, and a very good dog: a real tour de force, showing off the immense amount of research the author did and her facility with inserting it into the text quite naturally.My copy currently in an omnibus
Review by shojo_a
16/06/2015
The daughter of a country clergyman, Arabella gets the chance to go to London stay with her rich godmother in hopes of finding a good husband. After being snubbed by the arbiter of fashion known as the Nonpareil, she pretends to be an heiress in a fit of pique. Soon all the fortune hunters in London are after her, and so is one very rich man - the Nonpareil himself. He's convinced himself he's just helping launch her onto the town to enjoy the spectacle, she's convinced that the accomplished rake is just flirting with her. But neither of them are right...<br/>The beginning of this book had a similar feeling to Anne of Green Gables, or Emily of New Moon, or even Little Women, one of those stories of the plucky young heroine and her home life, which I loved in its own right, and then once Arabella went to London it morphed into more a classic Heyer. I loved the chemistry between Arabella and Beaumaris, I loved how on one hand she seems so perfect - beautiful, good and generous, but on the other hand, she's impetuous, hasty and does a lot of really stupid things she should have thought out better. And Mr. Beaumaris may be one of my favorite of Heyer's heroes - the stuck uparbiter of fashion, but also with an amazing sense of self deprecation and the ridiculous. I adored the way he talked to Ulysses, it was so funny. <br/>I was sad the book ended when it did, because I want to read more about them.