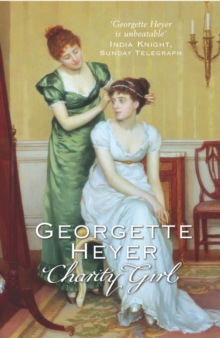 Description
When Fate and a chivalrous impulse combine to saddle Viscount Desford with a friendless homeless waif named Cherry Steane, to whom else should he turn in such a scrape but his old childhood playmate, Henrietta Silverdale?
For all they refused to oblige their parents by marrying, they have always been the best of friends. But as Desford pursues Cherry's lickpenny grandfather and reprobate father around unfashionable watering places and the seedier fringes of society, Hetta is forced to wonder whether he might not, at last, have fallen in love. Without the timely intervention of his scapegrace brother Simon, and Hetta's worthy suitor Gary Nethercott, Desford is in danger of making a rare mess of his affairs.
Charity Girl is a wonderful romantic novel by the queen of the Regency romance , and one of the most popular historical novelists of all time.
Information
Format: Paperback
Pages: 256 pages
Publisher: Cornerstone
Publication Date: 07/10/2004
Category: Historical fiction
ISBN: 9780099468059
Free Home Delivery
on all orders
Pick up orders
from local bookshops
Reviews
Showing 1 - 1 of 1 reviews.
Review by shanaqui
16/06/2015
Charity Girl definitely isn't the best Heyer novel I've read. It's rather along the lines of Sprig Muslin, just with slightly different detail. That rather reduces its charms for me, having already read Sprig Muslin, and given that the heroines are either not particularly engaging, or we don't see enough of them.I think I'd have enjoyed it more if I hadn't already read Sprig Muslin, but it's a mild one really by Heyer's standards. There're some amusing characters, but nothing laugh-out-loud, and there's not really any excitement either. I wouldn't read it for a first Heyer novel, definitely (go for The Talisman Ring, which I adore!), or even if you're only a casual fan.It's well-written, of course, else I'd give it only two stars. I can't bear to do that with something by Heyer, though.