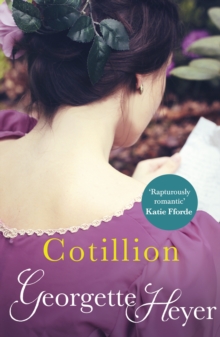 Description
The three great-nephews of cantankerous Mr Penicuik know better than to ignore his summons, especially when it concerns the bestowal of his fortune -- the wily old gentleman has hatched a typically freakish plan for his stepdaughter's future and his own amusement: his fortune will be Kitty's dowry.
But while the beaux are scrambling for her hand, Kitty counters with her own inventive, if daring, scheme: a sham engagement which should keep wedlock at bay ...Cotillion shows what made Georgette Heyer the undisputed queen of historical romance - one of the most popular novelists of her day, she is still adored by a huge readership.
Information
Format: Paperback
Pages: 336 pages
Publisher: Cornerstone
Publication Date: 06/01/2005
Category: Historical fiction
ISBN: 9780099474371
Other Formats
CD-Audio from £13.05
EPUB from £3.99
Free Home Delivery
on all orders
Pick up orders
from local bookshops
Reviews
Showing 1 - 5 of 5 reviews.
Review by riverwillow
16/06/2015
One of the wonderful things about this book is that the hero isn't a typical Heyer Georgian romance hero. He is beautifully dressed yes, but isn't exceptional, but does have a great deal of common sense. Although the reader really wants Kitty to chose him, its really not certain that she will make the right decision. As always the prose is delightful and fun. Fantastic.
Review by AdonisGuilfoyle
16/06/2015
Despite being indelibly stamped with Heyer's most infuriating trademarks - snub-nosed debutante 'Heyeroine', Regency London populated with 1930s socialites, and an overdose of 'flash' slang - I actually quite enjoyed 'Cotillion'. Freddy Standen, and his extended eccentric family, are delightful. Heyer's novels always remind of Wodehouse without the wit, and Freddy must be Bertie Wooster's ancestor. He speaks in a laconic drawl, peppered with phrases like 'dash it!' and 'buffle-headed', 'cork-brained' and 'doing it much too brown', and cares more about the cut of a waistcoat or the tying of a cravat than Sir Percy Blakeney - or a gay stereotype (and if this wasn't a Heyer novel, I would have to wonder). It's a pity that his 'Pink of the Ton' persona is not a clever rouse to hide his razor-sharp intellect and superhero strength, like the Pimpernel, but Freddy is a decent chap for all that. His family - Lord and Lady Legerwood and numerous siblings - are just as scatty, and wonderfully entertaining.Poor Freddy gets bamboozled into betrothal by the obnoxious Heyeroine of the hour, Kitty Charing, who stands to inherit her miserly guardian's fortune - if she will marry one of his great nephews. The selection of caricatures she can choose from is hardly inspiring - a pompous rector, a halfwit, a rake and Freddy. Not surprisingly, Kitty is less than enthusiastic, and runs away from home after being proposed to en masse by two of her mercenary suitors - only to run into nice but dim Freddy Standen on her way to London. The poor man, who insists that he 'ain't in the petticoat line', tries to resist Kitty's logic that a token engagement to the least harmless of her guardian's nephews would safeguard her inheritance, but that would be a short, sensible novel and not at all Heyer's style. So Freddy agrees to her plan, takes her to London to meet his family (although not a soul believes that they are actually engaged), and all sorts of Heyer hijinks ensue.The title of this novel captures the essence of the plot - the dance involves couples changing partners, and the word 'cotillion' comes from the French for petticoat! Kitty is supposed to be with Freddy but only to make his cousin jealous. Austenesque rogue Jack Westruther knows exactly what game Kitty is playing, but thinks to teach her a lesson by keeping her dangling. Olivia Broughty, Kitty's pretty protege, is already a victim of Jack's charms, but falls in love with Kitty's French cousin, the Chevalier d'Evron (or Chevron, as I call him). Whereas Freddy's other cousin Dolph, an imbecile who also talks in note form, has managed to find a woman capable of looking after him, but is too scared of his mother to act. Soon, lead couple Kitty and Freddy are too busy keeping the other dancers in sequence to notice that they are perfectly in step with each other. Kitty drove me mad, as usual with Heyer's gurgling poppets, but I love the Standen family, and Freddy's belated proposal really made me smile, bless him. The Regency cant is overdone - 'Talking flash! Forgot myself!' - and the characters sound like they have escaped from a 1920s house party (Kitty and Freddy, who have a jolly time in London, and his friend Jasper), but it's all good light fun.
Review by Condorena
16/06/2015
Perfect example of it's class. It stands the test of time as well or better than Jane Austin.
Review by veracite
16/06/2015
I have not laughed out loud so much in a while. This was the most fun kind of froth.
Review by quiBee
27/01/2016
One of my favourite Georgette Heyer books. I enjoy it because it's not the typical "hero" type that gets the girl, it's light and a lot of fun. Have reread it many times when I feel like escaping.