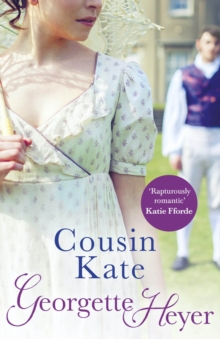 Description
Kate Malvern, rescued from penury by her aunt Minerva, hardly knows what to expect at Staplewood - the grand household is so very different from a life spent following the drum in the Peninsular!
But surely, other households are more homelike? Kate's uncle lives in one wing, handsome, moody cousin Torquil in another; thought the guests are few, even family dinners are formal. And, when Kate begins to suspect the shocking reason for Minerva's generousity, she has no-one to confide in but cousin Philip - who appears to have taken her in instant dislike...Cousin Kate shows all the ingredients that made Georgette Heyer a romantic novelist, beloved to a huge worldwide readership.
Information
Format: Paperback
Pages: 336 pages
Publisher: Cornerstone
Publication Date: 06/10/2005
Category: Historical romance
ISBN: 9780099490951
Other Formats
CD-Audio from £26.65
EPUB from £1.99
Free Home Delivery
on all orders
Pick up orders
from local bookshops
Reviews
Showing 1 - 3 of 3 reviews.
Review by Darla
16/06/2015
Well. This surprised me. I was expecting a Regency romance, which is what Heyer is famous for, and instead, I got a gothic. I lurrrrve gothics.The "Cousin Kate" of the title is an orphaned, penniless young woman who's been invited to live with her aunt after losing her position as a governess. Her old nurse, to whom she'd turned, contacted the aunt Kate had never met, and at first, all seemed fine.The aunt was kind and solicitous, and her cousin Torquil a handsome but moody young man, but the expected introductions to London society never materialized with their hope of contracting a marriage for Kate, and instead they lived quietly in the country, with the poor health of her aunt's husband, Sir Timothy, as an excuse.With the arrival of Sir Timothy's nephew Phillip, it becomes clear that all is not as it seems, and Kate is thrust into the middle of a mystery, not knowing whom to trust.I've been wavering between 4 and 5 stars for this book. On the one hand, I have no complaints about it whatsoever. I love the gothic style, and this was a pretty much flawless example of a gothic romance. On the other hand, it's a flawless example of a gothic romance--that is, there was nothing to distinguish it from other gothic romances, nothing that made me say "oh, my god, this is such a good book." Realizing that my ratings have been becoming inflated of late, I'm sticking with the 4 stars. Which I've always intended to mean "a book I really enjoy, but that doesn't make me want to do a little dance."
Review by AB_Gayle
16/06/2015
My main gripe with "Cousin Kate" was its length, but having said that, the description of life and the way people lived and interacted is worth exploring. Perhaps it's more a reflection of the pace I've come to expect in more modern books.<br/><br/>What sets this one apart from her other Regency novels is the character of Torquil who is, to me, the star of the book.<br/><br/>Try reading this, taking into account modern days attitude to madness and psychiatry. This is in the time before Fluoxetine and Olanzapine. Where people were diagnosed as simply "mad" and locked away. The nature of their illness was often hidden away from neighbours and the public, with the burden of looking after them left to family or trusted retainers. The illness itself was not understood and rightly feared. Sometimes inbreeding contributed to the problem.<br/><br/>Depression, schizophrenia, manic depression, at times Torquil shows signs of all three. This, of course, lends itself to a Gothic style novel, much in the style of Emily Bronte, but the real tragedy lies in the fact that society and the medical profession of the era did not know how to handle these cases. Instead, people had to walk on eggshells, trying to cope with the situation, the only recourse being sedatives.<br/><br/>Balanced by this is the "madness" that Torquil's mother exhibits. Her obsession and determination to get her own way all in the name of protecting the legacy.<br/><br/>There is still a lot that needs to be done with mental health, but at least we have progressed beyond the stage depicted here.<br/><br/>Given that Georgette Heyer's least popular books are those where she explores serious subjects rather than just romances, I'd be interested to know her reasons for writing this one.<br/>
Review by lovelylime
16/06/2015
Idgaf, im a sucker for a good gothic romance.