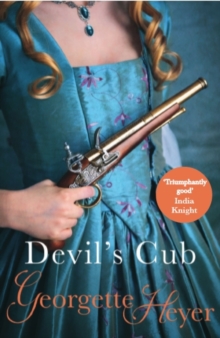 Description
The excesses of the young Marquis of Vidal are even wilder than his father's before him.
Not for nothing is the reckless duellist and gamester called 'the Devil's Cub'.
But when he is forced to leave the country, Mary Challoner discovers his fiendish plan to abduct her sister. And only by daring to impersonate her can Mary save her sibling from certain ruin.
Georgette Heyer's wonderful characters and stories made her the undisputed queen of the historical romance, and an international bestseller, still loved today by a huge readership.
Information
Format: Paperback
Pages: 288 pages
Publisher: Cornerstone
Publication Date: 01/01/2004
Category: Classic fiction (pre c 1945)
ISBN: 9780099465836
Free Home Delivery
on all orders
Pick up orders
from local bookshops
Reviews
Showing 1 - 5 of 14 reviews.
Previous | Next
Review by Anniik
16/06/2015
This book is the sequel to "These Old Shades," but is perfectly readable as a stand-alone as well. Dominic, the Marquis of Vidal, is the son of Justin and Leonie Alastair. Perhaps lacking in morals even more than his father, he is forced to flee after almost killing someone in a duel. He schemes to take a girl with him - an innocent (yet stupid) girl he wants to make his mistress - and to save her reputation, her older sister goes in her place, impersonating her. He finds out quickly and furiously takes her with him anyway, and the romance between them begins from there. This is a sweet and fun story, and it is fun to see Justin and Leonie again - Dominic is very much like his mother!
Review by jdquinlan
16/06/2015
Rating: 4 out of 5 Stars Within two pages of meeting Mary she makes fun of both her mother and her suitor and I knew right away I was going to like this girl. After telling her suitor that the color he is wearing, puce, does not become him, he continues nevertheless to flatter her with favorable comparisons to her sister:"In my eyes," declared Joshua, "you are the prettier."Miss Challoner seemed to consider this. "Yes?" she said interestedly. "But then, you chose puce." She shook her head, and it was apparent she set no store by the compliment.Mary's younger sister, Sophia, is a beautiful empty-headed girl who has caught the eye of Vidal, London's most notorious rake. (And he's not just a rake with the ladies; by page 54 he's already shot two men.) Mary knows Vidal has no intentions of making an honest woman of Sophia once he's had her, and when she stumbles across his plans to spirit her sister away, Mary takes action. Her plan works, but she never considered the repercussions of her actions and Vidal is not a man to be trifled with. He gets his revenge on Mary by forcing her to flee the country with him, thus ruining her reputation. Mary takes it all in stride until Vidal physically threatens her virtue and then she does what any sensible girl would do: she shoots him. Vidal in turn does what any sensible gentleman would do: he proposes.And thus begins the romance dance of two seemingly incompatible people, falling in love and denying it at every opportunity, until the moment when it seems they must confess or be lost to one another.This was my first Georgette Heyer romance and it is easy to see why her books have stood the test of time. The characters are engaging, the dialogue is smart and witty, and Ms. Heyer manages to create a very sensual feel throughout the story while remaining chaste and G-rated. I have only two complaints: In the beginning I was confused by all the name dropping and introductions to London society, but that didn't last long. I also felt too much time was spent with their relatives back in London when all I wanted was to get back to Mary and Vidal. But during the course of reading I realized this book was a sequel to These Old Shades, and Vidal's mother and aunt were characters in that book, so had I read that first, I may not have minded spending so much time with them in this book.All in all, a light-hearted, fun read!
Review by riverwillow
16/06/2015
Another entertaining read and although it's not quite up to the standard of it's prequel, "These Old Shades", it's still one of Heyer's best. Mary Challoner is one of Heyer's no-nonsense heroines and is more than up to the challenge of dealing with the Marquis of Vidal, who is a "wild, passionate" character, prone to shooting his adversaries. Bliss.
Review by Condorena
16/06/2015
Heyer aets a beautiful scene and takes the reader back in time. Then she gives each character a voice and they come alive. This is one of her besy. She does have a thing for shoes with red heels, they show up in all her early books.
Review by beckymmoe
16/06/2015
Since Alistair #1 (These Old Shades) creeped me out just a bit with the whole relationship between the duke and his "page" (seriously, he's still calling her his "enfant" in this one, and their son is in his twenties), I was relieved to see that the two of them had supporting roles in this book. They're there in the beginning and the end, with the duchess having a small solo part toward the middle and the duke with his own at the end. Most of the story focuses on the next generation--Dominic, the marquis; his cousins, Fanny's children; and Sophia and Mary Challoner, the pretty but rather vapid girl whom Dominic hopes to make his mistress and her older sister who is determined to prevent him. In true Heyer style, the plot is a comedy of errors, with disguises and duels, elopements and escapes, and misunderstandings galore. It was a slow start, as I've found many of her books to be, but once the plot gets going, hold on for a wild ride!