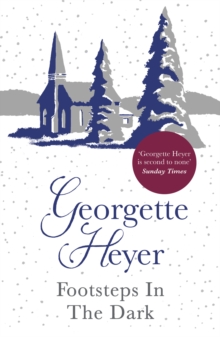 Footsteps in the Dark
Paperback
Description
The Priory may be ramshackled in appearance, but Peter, Margaret and Celia, who have inherited it from their uncle, love it for its rambling charm.
But there's more to this house than is at first apparent: for years hardly a single person has set foot in the place, and even their uncle chose to live in a different house, far away from this particular property. Local wisdom says that the house is haunted. And when things start going bump in the night, it certainly seems as if something ghostly is walking the Priory's halls.
Then a murder is committed. Does the key to solving the crime lie in the realm of the supernatural? Or is the explanation much more down to earth?
Information
Format: Paperback
Pages: 336 pages
Publisher: Cornerstone
Publication Date: 04/01/2007
Category: Crime & mystery
ISBN: 9780099493693
Free Home Delivery
on all orders
Pick up orders
from local bookshops
Reviews
Showing 1 - 5 of 8 reviews.
Previous | Next
Review by veens
16/06/2015
Footsteps in the Dark is my first book by Georgette Heyer. Instead of choosing the other genres that Heyer writes, I chose this thriller/suspense one. The story is very much there in the blurb that I have posted. I liked Heyer's writing a lot. It is based in the 20th century where ghosts and all are not believed in! It is quirky, funny and full of great details of how the people really where in those times. The only problem was that I guessed who was behind the whole haunting- affair and that's why I am giving this one only 3.5 stars! There were many repartee by Charles that made me laugh out loud!! The humor was incredible and the book in itself was enjoyable. It is a light and fun-read!I definitely enjoyed it!
Review by riverwillow
16/06/2015
Part thriller, part murder mystery, this is an enjoyable and fun read. Although the plot itself is fairly pedestrian the strength of this book is in the characters, including a wandering entomologist who keeps getting mistaken for a ghost and an incompetent but well-intentioned police constable, and the dialogue.
Review by srearley
16/06/2015
I have listened to a number of Heyer's romances via Audible.com, but had never tried one of her mysteries. This was fun!
Review by particle_p
16/06/2015
Heyer's first mystery, I think, and it shows. It's a classic haunted house mystery, with pretty much every haunted house cliché there is. If the book hadn't been written in 1932, there would have been a Scooby Snacks joke. When the villain is unveiled at the end, he even pauses as he's being led away in handcuffs to get the last word in! ("If it weren't for you meddling kids...") Anyway, it was enjoyable as camp. I'm the type of reader who likes spotting tropes, and this was a good book for that. Genre fiction becomes *good* when the tropes are satirized, twisted, or otherwise puts the reader down in a place where she or he does not expect. This book simply repeats the tropes with no attempt to do anything with them. That is why I gave it three stars. It's possible that in 1932 those tropes were still fresh enough that Heyer felt no need to be more creative with them, but my star rating is for modern readers.
Review by KimMR
16/06/2015
This was the first of Heyer's mysteries and it shows. Heyer apparently did not want it to be re-published so it can be presumed that she wasn't that keen on it, or at least that she recognised its weaknesses. And weaknesses it has. There's little character development (not that too much character development is to be expected in such a novel), the crime is a bit unconvincing and the resolution a bit pat. However, it exhibits some of the classic Heyer strengths: strong dialogue (albeit not quite as witty as in later mysteries), a nice sense of place and time and a predictable but nevertheless sweet romance.<br/><br/>The four star rating I have given this novel has been determined somewhat idiosyncratically. Two stars are for the mystery itself. An extra one is due to the writing and the fourth because it is Heyer's first mystery and is therefore of some historical and literary significance to her fans. The net result is a novel I liked very much. A must for anyone who is interested in Heyer in particular and 1930s mystery novels in general. Possibly a miss for most other readers.