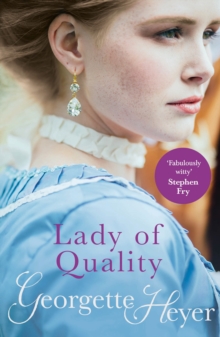 Lady of Quality
Paperback
Description
Independent and spirited, Miss Annis Wychwood gives little thought to finding herself a suitable husband, thus dashing the dreams of many hopeful suitors.
When she becomes embroiled in the affairs of the runaway heiress Lucilla, though, she encounters the beautiful fugitive's guardian - as rakish and uncivil a rogue she has ever met.
Although chafing a bit at the restrictions of Regency society in Bath, Annis does have to admit that Oliver Carleton, at least, is never boring. Showing all the skills that won her a devoted worldwide readership, Georgette Heyer's Lady of Quality is a dashing romance by the undisputed queen of the romantic novel.
Information
Format: Paperback
Pages: 272 pages
Publisher: Cornerstone
Publication Date: 02/06/2005
Category: Historical romance
ISBN: 9780099474463
Free Home Delivery
on all orders
Pick up orders
from local bookshops
Reviews
Showing 1 - 5 of 9 reviews.
Previous | Next
Review by MusicMom41
16/06/2015
When spirited, independent Miss Annis Wynchwood embroils herself in the affairs of a runaway heiress, she is destined to see a good deal of Lucilla's uncivil and high-handed guardian Mr Oliver Carleton, a man whose reputation for being a rake and the rudest man in England is notorious. It's a beautifully crafted novel, and boasts all the Heyer earmarks: witty, fast-paced dialogue full of convincing period slang, characters with depth and dimension who you grow to know utterly well within a few pages (even the much-loathed Maria or the pompous Lord Beckham are impossible to hate; a loving author renders them as endearingly flawed, expertly avoiding the stereotypical approach that far too many genre writers fall into), and detail that paints a vivid picture of time and place without bogging down the storyline.I read this on the plane ride home from Provence—it made the journey seem short.
Review by amf0001
16/06/2015
Georgette Heyer rarely disappoints and this is one of her more charming books. Lady Annis Wynchwood, on the way home to Bath, comes across Lucilla and Ninian in an overturned carriage. Lucilla is running away from over protective and suffocating aunt and Annis agrees to champion her cause. Her guardian and uncle, Oliver Carleton, comes and sparks fly. Rereading this for the umpteenth time, I was struck this time how quickly Oliver falls in love, they meet barely 4 times before he proposes to Annis. Another quibble - less amusing every time I read it (but I have to say I skim her bits) is the annoying cousin Maria, and the squabbles of Lucilla and Ninian. The theme of manners is treated a bit oddly - Lucilla pleases b/c she is 'pretty mannered' but the reason that all Annis' previous beaus failed is because they were too well mannered. Something about how men can be rough and ready, but women must always be polite. But that is a very 2008 reading of a book written in 1972 and set in the 1860's? (a date is never given, just beyond Bath's heyday) Ultimately I liked Oliver's and Annis' love affair, their using name calling as endearments (hornet and odious) and the fact that it is their laughter that brings them together. I think they'll have a very happy future, and I certainly had a happy time watching them meet
Review by LauraLulu
16/06/2015
Eh. Regency romances are just not my cuppa. But I am doing a lifetime of books reading challenge and this sucker was written the year I was born--it's harder for me to find books I like that were written in the olden days.
Review by nordie
16/06/2015
First Heyer book that I've read so dont whether this is a good or average example of her work. Found the first chapter or so difficult to get into as I'm not used to her writing style. There was a point partway through where I saw similarities with Pride and Prejudice (the two main characters initially hate each other, she turns down his initial marriage proposal and there is a crises that brings them back together). Cousin Maria is Mr Collins reincarnated.So, found the book mildly derivitive yet mildly amusing. Wasnt gripping and I did glaze over, especially when Cousin Maria went off on one of her speeches (yes I know that was kind of the point, but.....).
Review by beckymmoe
16/06/2015
I love Georgette Heyer's books--the characters are quirky and totally unique, her storylines are always fresh, and her use of Regency slang makes me want to toss around terms like "ape-leader", "blue devil", "wet goose", and "cock up one's toes" in my everyday conversation. I don't usually, but I'm tempted. Lady of Quality is a prime example of Heyer at her best.<br/><br/>At twenty-nine, Annis Wynchwood is considered firmly on the shelf. Strong-minded and independent, she's set up her own establishment in Bath to avoid being the "maiden aunt" in her brother's home. In Bath she enjoys making her own decisions, running her own household, and deciding how and with whom she will spend her time. Well, there is one exception--her cousin, Maria, who her brother suggested she engage as her companion to lend her respectability, and who also tends to drive Annis (and anyone else who spends five minutes with her) completely crazy. Other than that, though, Annis is fairly content with the life she's made for herself.<br/><br/>At least she thinks she is--until the day she encounters a broken-down carriage on the road. Annis meets Lucilla Carelton, a young girl who has escaped her aunt's house and the pressure to marry her childhood friend Ninian (who, incidentially, doesn't want to marry her either, and is actually helping her to escape). Annis takes the young girl under her wing and manages to become her temporary chaperone, much to the annnoyance of her brother, her companion Maria, and Lucilla's co-guardian, Oliver Carelton, the "rudest man in England." Mr. Carelton is so put out with Annis's presumption that he travels to Bath to determine just what Miss Wychwood's motives could possibly be. He stays in town, much to Annis's annoyance, since the two are constantly at loggerheads. Or are they? Mr. Carelton admits almost at once to Annis that he finds her both beautiful and fascinating. Annis, though exasperated beyond belief every time she encounters Lucilla's ward, can't help being fascinated by him. She is constantly torn--does she want to see him or avoid him? Encourage him or push him away? Does she loathe him, or love him? You can pretty much figure out where the story will end up from these two characters' first scene together, but as always, the journey Heyer takes us on to get them there is a whole lot of fun!