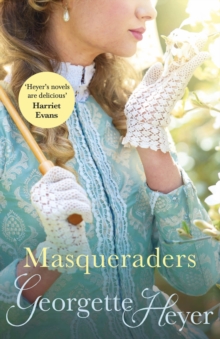 Description
Robin and Prudence Merriot have been dissemblers since they were children. And in this age of slippery politics, they need to be.
So it is nothing for them to rescue a rich heiress from her abductor.
But once committed to their masquerade, they must see it through... For more than fifty years Georgette Heyer was the undisputed queen of historical romance. And as these hugely succesful reprints have shown, she still has a large devoted readership.
Information
Format: Paperback
Pages: 304 pages
Publisher: Cornerstone
Publication Date: 06/10/2005
Category: Historical romance
ISBN: 9780099476436
Other Formats
CD-Audio from £26.65
EPUB from £3.99
Free Home Delivery
on all orders
Pick up orders
from local bookshops
Reviews
Showing 1 - 3 of 3 reviews.
Review by reannon
16/06/2015
I have a hard time deciding if this or Venetia is my favorite Georgette Heyer. They are quite different, even the era is different... The Masqueraders is set in the mid-18th century. It is slightly more political than the others, as one of the major characters is a fugitive from the defeat of Bonnie Prince Charlie and his followers. Wonderful characters, great plot.
Review by helen295
16/06/2015
This is only the second Georgette Heyer book I've read and it was very different to my first, The Talisman Ring, in setting, language and plot. The Masqueraders is set just after the Jacobite Rising of 1745 and follows the adventures of Prudence and her brother Robin. Along with their father (referred to by his children as 'the old gentleman') Robin had been involved in the failed Jacobite rebellion and is now in danger of being hanged. To prevent him being captured, the brother and sister have created new roles for themselves - Robin has disguised himself as the beautiful 'Miss Merriot' and Prudence has become the handsome young 'Peter'. All very Shakespearean! Not surprisingly, this leads to a number of misunderstandings and narrow escapes.Things get even more interesting when Prudence, still posing as Peter Merriot, begins to fall in love with Sir Anthony Fanshawe – and then 'the old gentleman' arrives on the scene, claiming to be the lost heir to the Barham fortune.I found the story confusing and difficult to follow at first. I spent several chapters trying to work out exactly why Prudence and Robin had found it necessary to masquerade as people of the opposite sex and what they were hoping to achieve. It also took me a while to get used to the Georgian-style dialogue, with all the egads, alacks and other slang terms of the period.After a few chapters, however, various parts of the story started to fall into place and then I had no problem understanding what was happening. I ended up really enjoying this book. There were many things that made this book such a success for me. I thought the Georgian setting, with its powdered wigs, card games, sword fights and duels, was perfectly portrayed. The plot was full of twists and turns that kept my interest right to the end. And I loved the characters. The calm and cool-headed Prudence was the perfect balance for the more impetuous Robin - and both were fun and likeable. Watching Prudence's relationship with Sir Anthony develop was one of my highlights of the book. Robin's romance with Letty Grayson, who knew him only as a masked man known as the Black Domino, was equally well written.Most of all, I loved the 'old gentleman'. He was conceited, arrogant and a scheming rogue - but he was also hilarious and capable of coming up with such ingenious schemes that maybe his arrogance was justified.Having enjoyed both of the Georgette Heyer books I've read so far, I think I'm starting to become a fan and will definitely look out for more of her books!
Review by PhilSyphe
27/08/2015
Not the first Heyer book I've read featuring a woman dressed as a man, but it is the first I've read in which a man dresses as a woman.Beforehand I suspected it may be too complex and perhaps too silly, though it turned out to be pretty good fun.I liked one of the secondary characters best, namely Letty, who is a woman dressed as a woman. She's highly entertaining, often causing me to smile.I found the plot interesting rather than engaging. At times I grew a little bored but the good outweighs the bad.