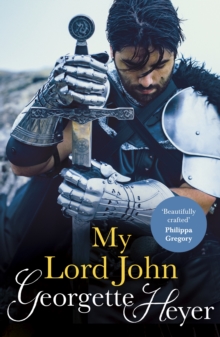 Description
John, Duke of Bedford, grew to manhood fighting for his father, King Henry IV of England, on the wild and lawless Northern Marches.
A prince of the royal blood, loyal, strong, the greatest ally that his brother - the future Henry V - was to have.
Filled with the clash of bitter rivalries and deadly power struggles, this is Georgette Heyer's last and most ambitious novel.
Information
Format: Paperback
Pages: 400 pages
Publisher: Cornerstone
Publication Date: 29/10/2005
ISBN: 9780099476429
Free Home Delivery
on all orders
Pick up orders
from local bookshops
Reviews
Showing 1 - 2 of 2 reviews.
Review by shanaqui
16/06/2015
I really wanted to like this one; I mean, I'm now pretty interested in this period of history, and it's Georgette Heyer. It's really nothing like her Regency romances, but that I expected: it's a piece of work she approached very seriously, and <I>intended</I> to be her most important work. It's a pity that it's so densely written, so overstuffed with all she knew, that it's very, very slow going. In a sense, I ended up approaching it the same way I do Norse sagas: just read it and soak it up, without worrying too much over who is related to whom and to what degree. A second reading then fills in the gaps.I don't have time for said second reading right now, and I'm not certain I'm interested enough to give this that much of my time -- part of Heyer's genius is with readable stories and characters you can get involved with, but even quarter of the way through I wasn't really involved yet. Too much of it seemed to come in summary, rather than through interactions between characters.Still, maybe...
Review by PhilSyphe
16/06/2015
Before reading this novel I expected to rate it 4 or even 5 stars, as I am aware of the author's talent, and I'm interested in the period (late 1300s/early 1400s), yet it's proved a real disappointment.One of Ms Heyer's greatest strengths is her dialogue, but this book is dominated by a dull third person narrative, and most of the dialogue lacks the author's usual wit and is weighed down further by an overuse of archaic vocabulary. I accept that it's good to be authentic, but here the reader - except those who are knowledgeable regarding 14th- and 15h-century words and phrases - is barraged with unfamiliar dialect. Yes, there's a glossary, but it's a pain to be constantly checking the back of the book during every dialogue exchange. Therefore, you either flit back and forth or just guess what these archaic words mean.Another minus point is that for the most part the author tries to name-check everyone who was living at the same time as my lord John - who's Henry IV's son and Henry V's brother, by the way - and even refers to many people who've died, who also have no relevance to the story. It seems like Ms Heyer wanted to use this book to express her historical interests, which makes me think she would've been better off writing a non-fictional work. To me, the beauty of good historical fiction is that it serves to bring life and colour to historical figures by developing their characters and adding in bits that are unknown to historians. A history book generally cannot do this, for it must stick to the facts and avoid romanticizing events. This novel feels more like a dull history book with just the odd scene dramatized - and not too well at that. To be fair, Ms Heyer died before finishing what turned out to be her last book, so perhaps the novel would have been revised a few more times and been better than this. This we will never know ...