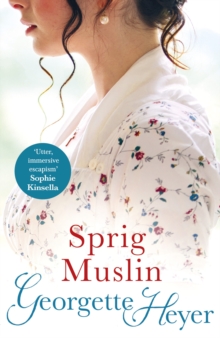 Description
Finding so young and pretty a girl as Amanda wandering unattended, Sir Gareth Ludlow knows it is his duty as a man of honour to restore her to her family.
But it is to prove no easy task for the Corinthian. His captive in spring muslin has more than her rapturous good looks and bandboxes to aid her - she is also possessed of a runaway imagination...A typically enthralling historical novel, Spri Muslin shows the skill which has kept Georgette Heyer a huge and devoted raedership to this day.
Information
Format: Paperback
Pages: 272 pages
Publisher: Cornerstone
Publication Date: 02/06/2005
Category: Classic fiction (pre c 1945)
ISBN: 9780099476351
Free Home Delivery
on all orders
Pick up orders
from local bookshops
Reviews
Showing 1 - 5 of 5 reviews.
Review by DeltaQueen50
16/06/2015
I was introduced to Georgette Heyer about a year ago and she has become a favorite. Sprig Muslin reads like a comedy of manners. Set in the Regency Period, it is the story of Amanda, a young runaway girl, Sir Gareth, the high-society bachelor who takes on the role of her protector, and the shy daughter of an Earl, Lady Hester, who rejects Gareth while all the while being in love with him.With an outstanding cast of characters who always get the wrong end of the stick the story romps along with many complications and much humor. As with all Georgette Heyers' historical novels, the language is a delight to read and where else will you find phrases like "Go away, you odious, impertinent creature" or "By Jove, sir, I am devilish glad to see you".I thoroughly enjoyed Sprig Muslin and look forward to discovering my next Georgette Heyer.
Review by riverwillow
16/06/2015
This book has an unprepossessing start, Sir Gareth Ludlow has finally decided to marry and has determined to offer for the hand of Lady Hester, a friend of his long dead fiancee. But it quickly picks up when Sir Gareth encounters Amanda, an innocent, yet resourceful runaway who quickly embroils Sir Gareth in a series of scrapes. This is a delightful romp as the characters dart across the countryside in various carriages. Wonderful.
Review by richardderus
16/06/2015
I confess it true: I am such a noddycock that this is the first of the estimable Miss Heyer's trashy novels that I e'er did peruse. Dash it all, how was I to know she was a veritable caryatid of culture, a purveyoress of fine wordsmithing, an artiste?Yeah, so she invented the Regency romance, or close enough to it. Yeah, she was an English homemaker. And by today's "so what did you smell like after you murdered those teenagers, Mr. Dahmer?" celebrity standards, she was a complete nonentity. Never gave an interview, never went on tour, never so much as blew a kiss to a crowd.And still her legend lives on. I imagine the Regency period of English history would still be a giant snorefest for the youth of America if it were not for Miss Heyer's Regency-set romances. They spawned myriad imitatrixes to mine the rich seam, from the time she started out at age nineteen until this good day. And beyond, I suspect. She wrote well over 50 titles, she had a half-century career, she was a commercial powerhouse. She was a game-changer for the publishing industry. She was, in short, JRR Tolkien but female (and fun to read).You won't spot historical inaccuracies in her books. You won't spot infelicities of style. You won't see violence or mayhem, though the odd lord does get shot or sliced with a sword.What you will see is simple, direct, and graceful writing, not precious or cutesy-poo drivel. You will see implausible-but-consistent plotting. You will see clearly and concisely drawn characters, people one can believe really went to Almack's and faught in the Peninsular campaign and made their debuts to the ton. You will, if you climb down off your preconceived notions, get a rare treat...a book that's a pleasure to read and a disappointment to finish, but is just exactly the right length.Recommended. Most heartily. Damme if it's not.
Review by Condorena
16/06/2015
if you want o flavor of some of the excellent conversational prose that Heyer writes this is the book for you.<br/><br/>A young girl who is running away keeps coming up with the most fantastical stories to explain her situation. Sober Sir Gareth Ludlow is lead by the nose through more adventure that he cope with but it leads to a better understanding and deeper love in his future.<br/><br/>This was a very witty and amusing story.
Review by darcy36
16/06/2015
I love Georgette Heyer! Her sentences flow so beautifully--I just savor them as I read. She ties her plots up just as beautifully and with so much humor. I never get tired of reading her books! After rereading one or more of them, I find that some of the Regency vernacular starts creeping into my speech, causing people to give me odd looks. I don't care--if they don't understand what I mean it is their own fault for not reading Georgette Heyer!