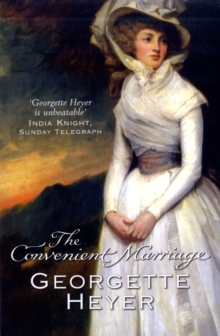 The Convenient Marriage
Paperback
Description
When the eligible Earl of Rule offers for the hand of the Beauty of the Winwood Family, he has no notion of the distress he causes his intended.
For Miss Lizzie Winwood is promised to the excellent, but impoverished Mr Edward Heron.
Disaster can only be averted by the delightful impetuosity of her youngest sister, Horatia, who conceives her own, distinctly original plans ... Fo over fifty years until her death in 1974, Georgette Heyer was the undisputed queen of historical romantic fiction, and the The Convenient Marriage shows why she configures to be loved by a huge readership to this day.
Information
Format: Paperback
Pages: 288 pages
Publisher: Cornerstone
Publication Date: 06/01/2005
Category: Classic fiction (pre c 1945)
ISBN: 9780099474425
Other Formats
CD-Audio from £13.05
Paperback from £6.65
EPUB from £1.99
Free Home Delivery
on all orders
Pick up orders
from local bookshops
Reviews
Showing 1 - 5 of 10 reviews.
Previous | Next
Review by SockMonkeyGirl
16/06/2015
One of the few Heyer books that I did not love. The view of a marriage was painful and despite the happy ending, I winced a number of times getting there. Well written but not my favorite.
Review by riverwillow
16/06/2015
A sparkling comedy of errors - Horatia Windwood offers herself up to the Earl of Rule as the Winwood he should marry, rather than her elder sister, Lizzie, who is in love with someone else. Rule is clearly enchanted by her,and Rule's sister, Lady Louisa Quain immediately sees that Horry is going to lead him a merry merry dance and she does. Horry takes on the marriage on her own terms, leaving Rule to carry on with his mistresses while Horry gets involved in various scrapes with other unsuitable members of the ton. There are a couple of hilarious fights between the ludicrous Crosby Drelincourt and Horry's brother Pel. The dialogue sparkles and, of course, everything falls into place at the end. Wonderful.
Review by Anniik
16/06/2015
This book is the story of Horatia (Horry) Winwood and her "marriage of convenience" to Marcus, the Earl of Rule. The action of the book begins at the Winwood house, when we find out that the Earl of Rule is about to offer marriage to Elizabeth, the oldest of three daughters. Elizabeth is devastated by this news, as her heart is promised to Lt. Edward Heron, a kind but impoverished officer. Finding it impossible to let her sister suffer, Horry, the youngest, makes a very improper visit to the home of the Earl of Rule and offers herself to him instead. The Earl seems rather charmed by her, and accepts, making his formal offer for Horry and not Elizabeth. The rest of the story concentrates on the disaster that has become their marriage - a disaster not helped by Horry's insistence on taking up with the wrong friends and spending obscene amounts of money on gambling. Nonetheless, the Earl of Rule and Horry do have feelings for each other, and it is charming to see all the misunderstandings and dramatic irony that result from the complications of the plot.This is a charming book, a la Jane Austen. While we are not given insight into the minds of the characters, that insight can be easily deduced through dialogue and actions. In addition to the two main characters, I found her eldest brother, Pelham Winwood, a charming character, and the villain was nasty without being one-sided. Her descriptions of fashion and surroundings added a great deal of atmosphere to the book as well. A very good book!
Review by schmal06
16/06/2015
A quick, light read and really quite funny. My first, though certainly not my last Heyer novel.
Review by KimMR
16/06/2015
Why did it take me so long to re-read this Georgette Heyer novel? I had forgotten what a romp it is. Ok, so it's not her best work and definitely not in my top five Heyer favourites (I much prefer the novels with older heroines!), but it is nevertheless a well-plotted and entertaining read. Horry is a somewhat annoying heroine, but Rule is an appropriately attractive hero, Lethbridge is a good villain and Pel, Pom and Edward (in his second and subsequent appearances in the narrative, at any rate) are hilarious. Georgette Heyer novels are my ultimate comfort read. I've read almost all of them and re-read quite a number of them regularly. I'll be adding The Convenient Marriage to the re-read list.