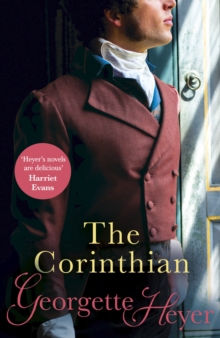 Description
The only question which hangs over the life of Sir Richard Wyndham, notable whip, dandy and Corinthian, is one of marriage. On the eve of making the most momentous decision of his life, he is on his way home, a little worse for drink, when he chances upon a beautiful young fugitive climbing out of a window by means of knotted sheets - and so finds a perfect opportunity for his own escape.
The Corinthian has eveything that Georgette Heyer's devoted readership came to expect and that made her one of the most popular novelists of her day, and still adored by a huge audience.
Information
Format: Paperback
Pages: 240 pages
Publisher: Cornerstone
Publication Date: 07/10/2004
Category: Historical fiction
ISBN: 9780099468080
Other Formats
CD-Audio from £20.25
EPUB from £3.99
Free Home Delivery
on all orders
Pick up orders
from local bookshops
Reviews
Showing 1 - 5 of 8 reviews.
Previous | Next
Review by Anniik
16/06/2015
This is not one of my favorite of Heyer's books. It's cute enough, yes, and it's well written, but the problem is that there is little to no character development. Heyer spends far too much time in this book on the robbery/murder plot, and not nearly enough in developing the relationship between Pen and Richard. I can completely understand why Pen doesn't believe him when he proposes - there's nothing in the book to let the reader on to the fact he's falling in love with her either!
Review by LucyB.
16/06/2015
So now this is for sure...I'm officially hooked on Georgette Heyer. The last time something like this happened I plunged head first into anything and everything Plaidy and never looked back- it's not the same, I know; but there are certainly many similarities. There's just something about historical fiction writers who keep the language of the times and make the dialog seem so real as though it were actually written back then.The details of the setting, the perceptions, the fashion, the attitude and behaviour of the people- there's something to be said for this kind of historical accuracy. And when an author has got that under check, well then it's all a matter of storyline and plot. That followed through beautifully for Heyer in this incredibly comical story that caught me laughing out loud quite a few times. I love it when a period read can keep me entertained this way- what a wonderful way to unwind with an amusing tale that manages to keep you hooked until the end.The Corinthian is a story about a worldly, fascinating and wealthy gentleman, Sir Richard Wyndham, and the young, very impressionable and mischievous Miss Penelope Creed. How these two very unlikely people get caught up into eachother's lives is what this amusing book is all about. While Sir Richard's family's match-making gets him almost hitched into a marriage of convenience; Miss Creed's own planned marriage throws her literally 'over the edge' to find both of these exasperated individuals who have lost hope in convincing others of their non-compliance meet on a not-so- coincidental evening. An incredibly original night out on the town, and a series of unexpected events, changes their fate forever.I absolutely loved this fast-paced read. There was not a moment of boredom or even time to ponder in this one. Like a domino effect, the pieces of the story just tumble into place regardless of all the sidetracking events that plead to yet again sway you into an ever developing and changing plot. Amazingly entertaining and as usual, a tender loving story -endearing throughout, but especially in its finale.Wonderful!
Review by francescadefreitas
16/06/2015
Drunken gentleman rescues a young girl escaping from a second story window, and they end up fleeing in disguise across the country. Very sweet.
Review by Condorena
16/06/2015
This book of Heyer's that was published in 1940 at a time when most people's thoughts were consumed with war,and it was written about twenty years after her first works. Heyer wrote about one book a year. Her standards were consistently high and readers wor,ld have liked the amusing tone the book takes as it takes two characters on an unexpected adventure that changed the course of their life for ever. I have always considered this story to be one of her best.
Review by veracite
16/06/2015
Another jolly road adventure, not as fabulous as [book:Sprig Muslin] but very enjoyable, just the same.