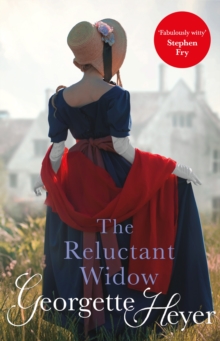 The Reluctant Widow
Paperback
Description
Stepping into the wrong carriage at a Sussex village, Elinor Rochdale is swept up in a thrilling and dangerous adventure. Overnight the would-be governess becomes mistress of a ruined estate and partner in a secret conspiracy to save a family's name.
By midnight she is a bride, by dawn a widow. A typically thrilling and sweeping tale of romance and tragedy, The Reluctant Widow is Georgette Heyer at her best - the undisputed queen of historical romance.
Information
Format: Paperback
Pages: 288 pages
Publisher: Cornerstone
Publication Date: 29/05/2004
Category: Historical fiction
ISBN: 9780099468073
Free Home Delivery
on all orders
Pick up orders
from local bookshops
Reviews
Showing 1 - 4 of 4 reviews.
Review by wyvernfriend
16/06/2015
A formula that seems to have been borrowed frequently. Woman down on her luck gets into the wrong carriage and instead of being a governess is married and widowed within a few hours. She also finds herself embroiled in some shady goings on with spies and secret passages and trying to save a family name.It's one of those stories where the main character really keeps having stuff poured on her and still comes up smiling. It's fun, if you're into romance you've probably read it several times but still it's a good yarn.
Review by konallis
16/06/2015
Soured for me by the ending - in which our heroes cover up murder in order to avoid that aristocratic bugbear, family scandal - and by the number of typos in the Arrow edition, which seems to have been proofread by drunken marmosets. Otherwise a fun read, filled with plot, banter and villainous skullduggery. As one of Heyer's excursions into semi-Gothic, better than <em>Regency Buck</em> but not as good as <em>The Talisman Ring</em>.
Review by Condorena
16/06/2015
Elinore Rochdale has forged a path in life that is destined to be one or drudgery, subservience and torture by small brats and has convinced herself she is content. But one dark cold night she takes a misstep into a crested coach which leads to to unlooked for, unwanted danger and excitement. But in the end the world of spies and skulduggery seems a better option than naughty children.<br/><br/>This story was a lot of fun and if you follow the conversations there is humor, wit and interesting characters.
Review by thatotter
16/06/2015
A most gothic Heyer! I approve heartily. (To quote the heroine: "How forcibly it puts one in mind of all one's favorite romances!") And you know, Elinor was fairly Jane Eyre-ish for a Heyer character: flinty but funny, practical but warm, tough but sensitive. The plot edged away from gothicism and toward something more typically Heyerish as the plot went on...but one can't have everything.