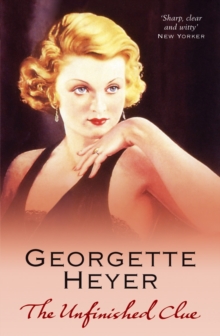 The Unfinished Clue
Paperback
Description
The stabbing of irascible General Sir Arthur Billington-Smith fails to stir up grief in anyone - least of all his family, which is no wonder considering the way he had treated them all during the fateful weekend.
He had disinherited his son, humiliated his wife, refused to help his financially stricken nephew and made no secret of his loathing for his son's fiancee, a cabaret dancer.
Inspector Harding picks his way through a mass of familial discontent to find the culprit - and find much more besides.
Information
Format: Paperback
Pages: 320 pages
Publisher: Cornerstone
Publication Date: 04/01/2007
Category: Crime & mystery
ISBN: 9780099493730
Free Home Delivery
on all orders
Pick up orders
from local bookshops
Reviews
Showing 1 - 4 of 4 reviews.
Review by riverwillow
16/06/2015
Not the best of the Georgette Heyer murder mysteries, but still enjoyable nevertheless. The murder occurs quite a way into the book, which enables the reader to really understand just how unpleasant the victim is, which explains why there are so many suspects. There is a lovely red-herring in this plot, which is too spoilery to reveal, but raises this book just above the average.
Review by JulesJones
16/06/2015
Country house murder mystery written and set in the early 1930s. Great fun, with an entertaining cast of suspects and some cunning red herrings. Dinah Fawcett arrives at her married sister's house for the weekend, only to find Fay's household in turmoil. Fay's stepson has arrived home with his fiancee, a famous and extremely flamboyant cabaret dancer from Mexico. Fay's husband has taken this as well as you'd expect from a bullying martinet of a wealthy retired army officer. General Sir Arthur Billington-Smith has always despised his highly strung son, not least because years ago his mother ran away with another man. This would be bad enough if there were just family present, but Sir Arthur has invited guests for the weekend, and naturally is now blaming Fay for their presence. There are other weekend guests too, some self-invited, others not. And then there are the neighbours who drop in, with or without an invitation...Sir Arthur proceeds to give almost everyone staying in the house motivation for killing him, so it's no surprise when he's found dead in his study the next day, stabbed with his own paper knife. It's up to Inspector Harding of Scotland Yard to sift through the assorted stories the potential suspects have to tell. Not an easy task, given the mix of attention-seeking and attention-avoiding to be found at the house party, as the various participants try to paint their own actions in the fashion most congenial to them.Dinah takes charge of the household, being possessed of both common sense and an impeccable alibi. These two things also make her a useful source of information for Harding about the people at the house, even if he has to allow for her having a vested interest in protecting her sister. The novel is primarily told from Dinah and Harding's viewpoints, and there's a nice romance sub-plot in the background that adds to the story without being allowed to overwhelm the main mystery plot.The book was written in the 1930s and it shows in the attitude to class and race, with some of the characters being very stereotypical; but Heyer also deftly uses assumptions in those stereotypes to lay false trails. And for all the stereotyping, there are some lovely characterisations here. If 1930s country house cosies are your thing, this is a stylish and witty example of the genre.
Review by mmyoung
16/06/2015
This is the third of Heyer's detective novels and this reader gets the sense that the author is still searching for exactly the mix of plot and characters to achieve the desired effect. Unlike her first two excursions into the murder mystery genre in this book the detecting is done by a professional and the local constabulary are not portrayed as hayseeds. Instead the reason given for calling in Scotland Yard is prosaic and believable--that when a murder takes place in the home of a locally powerful and influential family it is best that it be investigated by someone who is not local and not likely to be intimidated by the suspects and witnesses.Like so many of her contemporaries Heyer fell back on stereotypes as she constructed her stories however unlike those many contemporaries Heyer not only seems aware of this but she also tips a wink at her reading audience. Some of the servants are wide-eyed devotees of cinematic cliches and others are even minded, thoughtful and responsible. Lola de Silva is an over-the-top Mexican cabaret dancer and yet she is not presented as typical of Mexicans rather as typical of self-centered egotistical people. Heyer's writing style is lively without being comedic; a voice she perfected in her Regency Romances. The reader is likely to be so entertained with intertwined stories of the cast the characters that they do not notice with what dispatch the detective quite professionally finds out what happened over the course of the weekend. Heyer needs to provide neither maps nor charts for the reader to follow the story and she falls back on neither the locked room nor an unusual or convoluted method of murder. In a pleasant reversal of the habit of other mystery writers of claiming to have provided the reader with all the information necessary to solve the crime while having done so in the most misleading fashion Heyer provides the reader with more information than her detective has any reason to know while convincing the same reader that the detective showed no unrealistic amount of intuition in solving the crime.
Review by shanaqui
16/06/2015
I don't know why nobody pointed me at Georgette Heyer before. In style and substance her work is much like Mary Stewart's or perhaps Agatha Christie's, and Dorothy L. Sayers set some store by her too. It's a country house murder mystery, with a good number of highly suspicious subjects, a cool and collected young woman who keeps her head and assists the police wonderfully, and an eligible bachelor of a detective to be fallen in love with. <br/><br/>The mystery itself is rather typical of the type, with a mystery that can't quite be solved owing to a lack of the most important piece of information (which, if you had, would spoil the story altogether), but I enjoyed Heyer's narration and dialogue, and had a rather giggly moment over the romance. The characters all seem rather stock, really, but it worked in this case.<br/><br/>At this rate, I shall have to start a guilty pleasures shelf for the purpose of putting Heyer and Stewart on it. Except I don't really feel guilty.