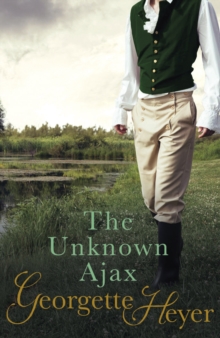 The Unknown Ajax
Paperback
Description
Miles from anywhere, Darracott Place is presided over by irascible Lord Darracott.
The recent drowning of his eldest son has done nothing to improve his temper.
For now he must send for the unknown offspring of the uncle whom the family are never permitted to mention.
Yet none of that beleaguered family are prepared for the arrival of the weaver's brat and heir apparent ...Yet again Georgette Heyer shows the qualities that made her one of the most successful and best-loved romantic novelists of her age, and why her popularity endures to this day.
Information
Format: Paperback
Pages: 352 pages
Publisher: Cornerstone
Publication Date: 06/01/2005
Category: Historical fiction
ISBN: 9780099474364
Free Home Delivery
on all orders
Pick up orders
from local bookshops
Reviews
Showing 1 - 5 of 5 reviews.
Review by MusicMom41
16/06/2015
This story was another variation on the "unexpected heir" (see "The Quiet Gentleman"). Hugo is the grandson no one knew existed except the lord of the manor. He becomes the heir when the heir apparent and his only son are both killed in a boating accident. Hugo's father, the second son of the family, had been cast off when he married a "weaver's daughter" while he was stationed with his army unit in Yorkshire. Once again, the unexpected heir is required to save the day—and is this instance the family home, as well. There is much more humor in this book than in The Quiet Gentleman but the mystery is much easier to figure out. And the damsel, Anthea, is fairer and livelier but has just as much good sense as Drusilla, so will make a fine lady of the manor when the time comes.
Review by breadcrumbreads
16/06/2015
Georgette Heyer has always been one of my favourites ever since I got introduced to her about twelve years ago. I have marked, amongst her regency novels, a few favourites - one of which is <i>The Unknown Ajax</i>. An unknown grandson is to inherit Lord Darracott's estates, and none too happy about it than his lordship himself. A 'miller's brat' he is loath to see a baffoon step into his shoes. But his estates are entailed and so he sends for this miller-soldier grandson. Onto the scene comes the gentle giant with blue eyes as round and innocent as a child's and with a seemingly simple mind. Bit by bit various members of the family begin to understand that Cousin Hugo isn't really as simple as he would have them believe. He is stubborn and knows exactly how to get his own way albeit sweetly. I love the way each person discovers that their Yorkshire relative is more than a match for all the Darracott household put together. Hugo is not your typical hero with his gentle ways and one cannot help but enjoy the character that he is. The final scene in the story is a lovely, hilarious climax that I have read a countless number of times! <i>The Unknown Ajax</i> is so definitely a must read, not just for Heyre fans, but for those who enjoy regency and romance!
Review by bunwat
16/06/2015
A family of snobs fail to put the new heir in his place and gradually discover he is the better man, albeit with a wicked sense of humor.
Review by paperloverevolution
16/06/2015
I bought the HQ edition and it was missing six pages. I hope I didn't miss anything really stupendous on any of those pages. Maybe there was a subplot about stampeding elephants or a roving gang of Regency ninjas? I'll never know.<br/>This cemented my preference for the Sourcebooks reprints - they use a brighter, heavier paper, and do not feature an insipidly chirpy introduction from some author I've never heard of.
Review by thatotter
16/06/2015
Enjoyable, but the characters weren't as lovable as those of <i>Frederica</i>. That Lord Darracott sure is a dick!